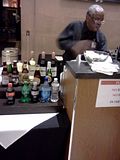 Friday night I heard
Philharmonia Baroque
perform Purcell's music for
Dioclesian
, an assortment of short instrumental & vocal pieces written for a 17th century theater spectacle. The pieces have no dramatic line by themselves, but the music is pleasant & courtly, even the drinking songs. Conductor
Nicholas McGegan
gave everything a gently bobbing motion. The performance had a cozy feel.
There were 25 singers on stage, including 7 soloists who also joined in the choruses. The orchestra was at floor level, in front of the stage, as if in a pit. Lutenist
David Tayler
played theorbo & a small guitar & sat on stage, probably for audibility. He disconcertingly balanced the theorbo precariously on his lap when playing the guitar. The orchestra's playing was neat & sprightly, though the trumpeters, who also sat on stage, struggled with their instruments. Harpsichord player
Hanneke van Proosdij
doubled on recorder.
The soloists were a fairly even group. Countertenor
Clifton Massey
has a light, easy sound. His part had a peculiar range which seemed centered right at the break in his voice. At the end of his act V song we heard a clatter, as if some dropped a bunch of silverware on the floor. I like tenor
Brian Thorsett
's high, pretty, yet solid, tone. He sang "What shall I do to show how much I love her?" with a heaving ardor, & Maestro McGegan made sure we could hear his quiet low note at the end of "Since from my dear Astrea's sight." Tenor
Jonathan Smucker
has a light, smooth sound, & the audience giggled at his duet "Oh, the sweet delights of love!" with Mr. Thorsett in which the 2 tenors were playfully competitive. It was easy to pick out
John Bischoff
's round & crisp bass voice. Soprano
Helene Zindarsian
made the dotted rhythms in her act III aria sound barbed, & she struck comic poses during her act V duet.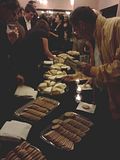 The house was nearly sold out, & the audience was silent & attentive. Following the performance there was a wine, cheese & dessert reception downstairs for LGBT patrons. Many of the musicians attended, including Maestro McGegan, who stood on a couch & jovially encouraged us to "quaff some wine." He also introduced
Michael Costa
, PBO's new Executive Director. My concert companion & I were unconvincing as a gay couple, but we had an enjoyable time chatting with other classical music enthusiasts.
§ PURCELL: The Prophetess; or, The History of Dioclesian (Z. 627)

Philharmonia Baroque
Nicholas McGegan, conductor

Clifton Massey, countertenor
Helene Zindarsian, soprano
Jean-Paul Jones, countertenor
Jonathan Smucker, tenor
Brian Thorsett, tenor
Jeffrey Fields, baritone
John Bischoff, bass-baritone
Philharmonia Chorale, Bruce Lamott, director

Fri, Oct 5, 2012, 8:00 pm
The Herbst Theatre
San Francisco