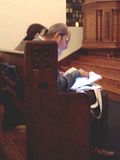 In a very warm Old First Church on
Tuesday night
, I heard the
Cypress String Quartet
perform works by 3 contemporary American composers.
Frank La Rocca
, Artistic Director of
Composers, Inc.
, introduced the program & informed us of the
Kickstarter campaign
for an up-coming performance featuring the entire brass section of the
San Francisco Opera
.
All 3 pieces had a somber mood. Cellist
Jennifer Kloetzel
introduced String Quartet No. 5 by
George Tsontakis
& explained that it was dedicated to the deceased George Rochberg & is in 2 movements that may be performed in any order. Both movements are similarly solemn. A ubiquitous trilling motif underlies the piece, & short themes pass between the instruments in a fugue-like manner. Both movements end when the music suddenly dissipates. The Cypress Quartet plays with a nice, mellow sheen, & 1st violin
Cecily Ward
sounds particularly smooth. The slightly brighter playing of 2nd violin
Tom Stone
complements hers pleasingly.
Mr. Stone spoke before
Lento Assai
by
Kevin Puts
, a single movement piece inspired by the slow movement of Beethoven's Quartet Op. 135. The quartet's members listen to each other really well, & the chordal opening section was perfectly soft and even. The piece gradually builds to an agitated climax then winds back down to the opening chords & fades to silence.
After intermission the quartet premiered
Elena Reuhr
's String Quartet No. 6. The composer was present & offered remembrances of George Rochberg &
Todd Donovan
, the Cypress Quartet's executive director & her piece's dedicatee. The quartet is in 4 roughly traditional movements & features long melodic lines for all the players, especially in the urgent 2nd movement. The final movement made me think of an effervescing drink. I enjoyed Ms. Kloetzel's wonderfully plump cello sound & pizzicatos. I was not used to seeing
Ethan Filner
, Cypress's reliable violist, with such long hair. The concert had a sparse audience of around 50, who were very quiet. I successfully pointed out music lecturer
Robert Greenberg
to
Cedric
, but I must need new glasses.
§ Old First Church Concerts
Composers, Inc.
Cypress String Quartet
George Tsontakis: String Quartet No. 5 (In Memoriam: George Rochberg)
Kevin Puts: Lento Assai
Elena Reuhr: String Quartet No. 6 (World Premiere)
Tuesday, October 2, 2012 At 8:00pm