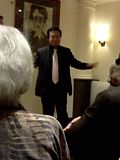 San Francisco Performances
opened their intimate
Salons at the Rex
series with a
recital
by
Adler Fellows
Laura Krumm
&
Ao Li
. Mr. Li's big voice burst out for a rousing "Fin ch'han dal vino" from
Don Giovanni
at the start of the program. He clearly enjoyed being in character & gave us a hearty laugh at the aria's end. He & Ms. Krumm then alternated in song & opera selections for the next hour. Mr. Li put a lot of power into everything. His voice for the
Erlkönig
in the Schubert song was amusingly smarmy. He was obviously happy presenting 2 songs in Chinese: a jolly love song from Kazakstan & then a rhetorical, patriotic-sounding song.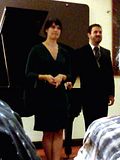 Ms. Krumm's voice is clean, unfussy & easy to listen to, & she also got very involved dramatically. She was appropriately silly in 3 Rossini songs, for which she described her character as a "Venetian soccer mom." She was very sympathetic to the mood of internal anguish in 3 songs by
Jake Heggie
about sculptor Camille Claudel. Pianist
Robert Mollicone
was busy, playing up a storm for
Erlkönig
& Mr. Li's Rachmaninoff aria & providing dreamy, impressionistic accompaniment for the Heggie songs. The recital ended with the duet "La ci darem la mana" from
Don Giovanni
, playfully sung & acted.
The audience of about 70 applauded enthusiastically for each number, & some gave the artists a standing ovation. In a Q&A, we learned that Mr. Li was drawn to opera at the age of 15 after seeing an opera singer on TV & that Ms. Krumm covered Joyce DiDonato in SF Opera's recent
I Capuleti e i Montecchi
.
§ Salon at the Rex
Laura Krumm, mezzo-soprano
Ao Li, baritone
Robert Mollicone, piano
"Fin ch'han dal vino" from Don Giovanni — W.A. Mozart (1756-1791)
Mr. Li
La Regata Veneziana — Gioachino Rossini (1792-1886)
Anzoleta avanti la regata
Anzoleta co passa la regata
Anzoleta dopo la regata
Ms. Krumm
Die Forelle — Franz Schubert (1797 -1828)
Erlkönig
Mr. Li
"Connais tu le pays?" from Mignon — Ambroise Thomas (1811-1896)
Ms. Krumm
Chinese Folk Songs
Arm in Arm (Kazak folk song)
The Descendants of Dragon
Mr. Li
Camille Claudel: Into the Fire — Jake Heggie (b.1961)
Rodin
Shakuntala
La petite Chatelaine
Ms. Krumm
"Kak, nézno priklonyás' ko mne" from Aleko — Sergei Rachmaninoff (1873-1943)
Mr. Li
"La ci darem la mana" from Don Giovanni — W.A. Mozart (1756-1791)
Ms. Krumm & Mr. Li
Wednesday, October 24, 2012 6:30pm
Hotel Rex