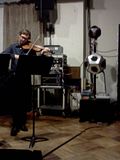 Saturday night I heard violinist
Ben Kreith
play a
solo program
of new music. There were 6 works of differing moods, & the performance lasted about an hour. Mr. Kreith's playing was sincere & purposeful.
Filipina para violín a la memoria de Felipa Martín
by Javier Arias Bal had a deliberative mood & contained a lot of double stops & straight tones.
Fun in the Sun
by
Laurie San Martin
is a short piece with fast notes, abrupt chords, & a suddenly calm coda.
Bluescape
by
David del Puerto
had a recurring 2-chord motif that indeed sounded bluesy & melancholy. The brief
Berceuse
by Anton Vishio felt thoughtful & restful.
The 10-minute
My New Address
by
Scodanibbio
is ferociously virtuosic, like an extended Paganini
Caprice
. The violinist has many high, glassy passages. The performance left Mr. Kreith winded. Composer
Daniel Cullen
controlled the electronic portion of his
Stream
, a 20 minute series of tiny musical events, coming from the violinist & from speakers in front & behind the audience. The piece was quiet. Afterward, Mr. Cullen showed me the iPad app he used to control the sound samples. Randomness is built into the patterns, so no 2 performances have the same sequence of sounds.
The
Center for New Music & Audio Technologies
is a converted house with Gothic windows a couple of blocks from the UC Berkeley campus. The concert took place in what was probably the front room. There was a small but appreciate audience of about a dozen, most of whom seemed to be academics. Composers
Laurie San Martin
&
Anton Vishio
were present & took bows with Mr. Kreith. A wine & cheese reception followed in the same room as the concert.
§ Benjamin Kreith, solo violin
Filipina para violín a la memoria de Felipa Martín (2009)
Javier Arias Bal
Fun in the Sun (2009)
Laurie San Martin
Bluescape (2007)
David del Puerto
Berceuse (2000)
Anton Vishio
My New Address (1988)
Stefano Scodanibbio (1988)
Stream (2011/12)
Daniel Cullen
CNMAT
Saturday, October 13, 2012, 8 PM