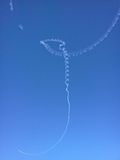 Clear blue skies made for ideal
Fleet Week
weather on Saturday, & the Marina Green was as crowded as I've ever seen it for the air show. I watched stunt pilot
Sean Tucker
do dizzying numbers of loops & corkscrews. He can flip & even hover his custom-built plane. His whoops & hollers from the cockpit were broadcast to the crowd. The
Blue Angels
show seemed more streamlined than usual, with less of a gap between maneuvers. It began with 5 planes in a V-formation, instead of the usual 6.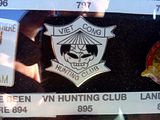 The Marina Green was well-furnished with kids' activities, food, & souvenir vendors. Apparently the Vietnam War is highly collectible.
One end of the Green was a parking lot for Brobdingnagian military vehicles, which were as exciting for parents as for their kids. It's currently overcast in the Marina this morning, but I'm assuming the clouds will burn off by this afternoon.
§ San Francisco Fleet Week 2012
October 4 - 8, 2012