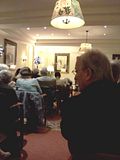 I didn't see any empty seats for last Wednesday's
Salon at the Hotel Rex
. In just 60 minutes, the
San Francisco Trio
presented a substantial meal of a program. Members of the trio took turns introducing the pieces, & there was a feeling of unanimity in everything they did. They played the 2-movement Haydn Piano Trio in E-flat minor with refinement & tight ensemble. Violinist
Axel Strauss
makes a robust, continuous sound, & there is a lot of variety in his playing. I was impressed by his fast trills. Pianist
Jeffrey Sykes
plays pristinely, & he executed crisp, rippling runs. The 2nd movement was agile & playful. The trio as whole sounded verdant in the Fauré Piano Trio. I like cellist
Jean-Michel Fonteneau
's effortlessly deep, plummy sound. He & Mr. Strauss were taut in their many unison passages, especially in the impassioned 2nd movement. Amusingly, the main theme of the last movement seems to be identical to the 1st 5 notes of "Ridi, Pagliaccio." The trio really dug into the music, & their performance was assertive.
The program ended with the trio's own arrangement of Piazzolla's
Le Grand Tango
. It was strong & sweeping, & the trio did not try to make it sound overly pretty. I hope I did not bother anyone when I involuntarily started rocking in my seat. The performance received a hearty ovation & exclamations of "Whoa!" There was a Q & A afterward, during which someone kidded Mr. Strauss about his "puny Deutsch accent." The trio told us of their interest in performing little-known transcriptions, such as Beethoven's own arrangement of his 2nd symphony for piano trio. I was very glad when they offered to play a Piazzolla encore after the Q & A. We got a lively & urgent, if out of season,
Primavera Portena
for which Mr. Sykes provided percussion by drumming on the piano lid.
This was the last salon of the fall season & perhaps the last one in the Hotel Rex. In the spring, the salons move to the Hotel Adagio for an
all-strings series
. I hope they retain their intimacy in the new setting.
§ Salon at the Rex
San Francisco Performances
San Francisco Piano Trio
Axel Strauss, violin
Jean-Michel Fonteneau, cello
Jeffrey Sykes, piano
Joseph Haydn, Piano Trio in E-flat minor ("Jacob's Dream")
Gabriel Fauré, Piano Trio in D minor, op. 120
Astor Piazzolla, Le Grand Tango
Encore:
Astor Piazzolla, Primavera Portena from The Four Seasons of Buenos Aires
Wednesday, December 14 6:30pm Hotel Rex