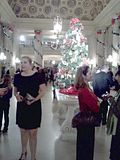 Prodded by
Entartete Musik
's
close reading of Tchaikovsky's Nutcracker
, I attended the
San Francisco Ballet's version
this week. I saw it annually as a child, so the music plays prominently on my childhood soundtrack of Christmas. But of course this production is new, so seeing it elicited absolutely no nostalgia in me. The Stahlbaum party takes place in San Francisco in 1915, complete with a row of Victorian houses at the opening of act 1. Drosselmeyer is retained throughout, directing Clara's dream. He transforms the child Clara into an adult ballerina so she can dance the Grand Pas de Deux with the Nutcracker Prince.
The cast features a lot of children & has a high cuteness factor. Clara defeats the Mouse King by putting his tail into a giant mouse trap. The audience applauded the stunningly rapid scene change that reveals the Kingdom of Snow, where the snow falls so thickly that we're practically watching the dancers through a blizzard. The trio of male dancers doing the Trepak was an audience favorite, & I liked the teetering dance of the ballerina doll in the 1st act.
Tiit Helimets
, the Nutcracker Prince, is graceful & lands his leaps in perfect silence.
Sofiane Sylve
, his partner in the Grand Pas de Deux, showed off stable turns. The orchestra's playing was clean & breezy. Conductor
Ming Luke
led gently.
The Opera House is a Nutcracker factory this month, presenting 30 peformances in less than 3 weeks. Artificial snow drifts down on the front steps, Christmas garlands decorate the lobby, costumed touts sell souvenir programs, & there is a candy store in the basement. The family audience was quite dressy, especially the many little girls, who strode to their seats as if they owned the place. While I waited in line for a standing room ticket, a young man tried to sell me two $75 orchestra seats. An excited usher gave me an unused ticket, but when I examined it, it was actually for the previous performance. During the intermission, 2 women asked me to take their picture in front of the Christmas tree in the lobby.
§ Nutcracker
San Francisco Ballet
Choreographer: Helgi Tomasson
Conductor: Ming Luke
Drosselmeyer: Yuri Possokhov
Clara: Rose Ritch
Queen and King of the Snow: Maria Kochetkova, Pascal Molat
Sugar Plum Fairy: Elana Altman
Grand Pas de Deux: Sofiane Sylve, Tiit Helimets
Wednesday, December 21, 7 pm
War Memorial Opera House