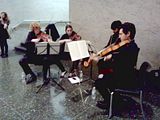 Last Thursday I was at the Masonic Auditorium for the
San Francisco Gay Mens' Chorus
holiday concert
. As the performers entered through the auditorium, people in the audience cheered & shouted out to their friends in the chorus. It was impressive just to see all 260 members, dressed in tuxedos, arrayed on stage. Though basically a Christmas concert, the show avoided being overly religious, & even the Christmas carols were presented in unconventional arrangements, such as "Hark the Herald Angels Sing" in 7/8 time or "The First Noel" sung over the Pachelbel Canon.
The chorus was well-prepared & made a blended, cushy sound. I especially enjoyed their
O Magnum Mysterium
, sung a cappella with evenness & nice dynamic control. The show was also very visual. When the chorus donned outlandish Santa hats for "Jingle Bells," we were encouraged to take pictures to post on Facebook. One singer looked like he had a lit Menorah on his head. A verse of "Silent Night" was performed in sign language without singing. A break-out group did a skit about Rudolph that climaxed with a tightly choreographed seated chorus line.
Soprano
Melody Moore
was a featured guest, & she was clearly eager to be on stage with the chorus. Her contributions included a hilarious operatic parody of "Jingle Bells" & an "O Holy Night" sung simply yet gorgeously, after which conductor
Tim Seelig
asked, "Wasn't that worth the price of admission?" The chorus was also accompanied by a 4-member
handbell ensemble
whose frantic version of the
Hallelujah Chorus
nearly stopped the show. As soon as it as over, some one yelled, "Do it again!" The
Contra Costa Wind Symphony
, a large wind band with percussion, joined the show after intermission, making for a loud 2nd half. The show ended in a solemn mood, as members of the chorus held up candles for a song called "Peace, Peace."
The event had a friendly, community feel, & the choristers mingled casually with the audience before the show & during the intermission. A string quartet serenaded patrons in the lobby before the concert. I somehow missed out on the free Ghiardelli chocolate handed out to early arrivals, even though I was there well in advance. A scaled-down version will be performed 3 times on Christmas Eve at the Castro Theatre. Ms. Moore is expected to do all three shows.
§ Joyous, Jolly, Jingles!
SFGMC 22nd Annual Home for the Holidays Concert

San Francisco Gay Men's Chorus
Dr. Timothy Seelig, Artistic Director & Conductor
Melody Moore, soprano
Contra Costa Wind Symphony
Velocity Bells

Masters In This Hall
Traditional, arr. David Maddux

Sleigh Ride
Music by Leroy Anderson, words by Mitchell Parish
Arranged for the Los Angeles Gay Men's Chorus by Eddy Clement

Angels In Seven
Music by Felix Mendelssohn, words by Charles Wesley, arranged by Philip Kern

Pop Goes The Season
Various writers, arranged by David Maddux and Paul Saccone
The Lollipop Guild

The First Noel
Arranged by Michael Clawson based on Canon in D by Johann Pachelbel
Arranged for the San Francisco Gay Men's Chorus by Jon P. Rollins

O Magnum Mysterium
Morten Lauridsen

Variations On Jingle Bells
Words and music by John Pierpont, additional lyrics by Mark Hayes
Arranged by Mark Hayes

Lulla, Lully, Lullay
Music by Philip Stopford, words traditional
Vocal Minority

Hallelujah Chorus
from The Messiah, G. F. Handel
Velocity Handbell Ensemble

Rudolph and Other Queer Folk
Michael Piazza

Favorite One
Cy Coleman, Betty Comden, and Adolph Green

Twas The Night Before Christmas
Music by Randol Bass, words by Clement Clark Moore

Gloria
Randol Bass

Silver Bells
Words and music by Jay Livingston and Ray Evans
Arranged by Kevin Robison for the New York City Gay Men's Chorus

Swing Into Christmas
Arranged by Mac Huff

Gettin' In The Mood (For Christmas)
Music by Joseph Garland, words by Brian Setzer & Michael Himelstein

I'll Be Home For Christmas
Words and music by Kim Gannon & Walter Kent

O Holy Night
Music by Adolphe Adam, words by John Sullivan Dwight
Adapted from the French by Placide Cappeau
Melody Moore

We Are Lights
Music by Stephen Schwartz, words by Steve Young
Arranged by James Eakin III

Angels We Have Heard on High

Silent Night
Music by Franz Xaver Gruber, words by John Freeman Young
Adapted from the German by Joseph Mohr

Peace, Peace
Words and music by Rick & Sylvia Powell, arranged by Fred Bock

Thursday, December 8th · 8:00pm
Masonic Auditorium