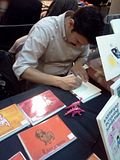 Saturday afternoon I went to Berkeley to check out the
East Bay Alternative Press Book Fair
, an expo of independent press, zines, comics & art, now in its 2nd year. There were about 50 vendors, & there seemed to be a lot of conversations going on at the tables. It was good to see some old-school xeroxed zines with cut-and-paste layouts & text hammered out on typewriters. I loved seeing an image of a Muni fast pass in
annie
's ephemera-themed
paper suitcase #1
. I hope there will be more issues. There was plenty of fine illustration as well. I liked seeing the slow-moving, hallucinatory images of
Brendan Monroe
.
Elle Skinner
's drawings are very cute, & she seems unreasonably productive. I ended my visit at a table shared by
MariNaomi
&
Geoff Vasile
, who both chatted with me as if I were an old friend. For some reason Mr. Vasile tried to steer me away from issue #1 of
Trackrabbit
, but I bought it anyway, & then he broke his pen while signing it. Mr. Vasile often seems nonplussed by what comes out of his mouth, but I am sure that I have never called him a used car salesman.
§ East Bay Alternative Press Book Fair
December 10, 2011 from 10am to 4pm
Berkeley City College