Tuesday evening I was at the Curran Theatre to see the touring production of
War Horse
, featuring life-size horse puppets by
Handspring Puppet Company
. The grim story, set in rural Devon & then the World War I battlefields of France, seems mainly a pretext for the puppetry & theatrical spectacle. A ship at sea, trench warfare & even a tank attack are cinematically depicted on the empty empty stage using projections, lighting, smoke, sound effects, & props handled by the large cast. Though the staging is complex, the show operates like a smoothly running machine.
The principal horse puppets each require 3 puppeteers & are convincingly animal-like & communicate sinewy strength. The twitching of the horses' ears went a long way toward selling the illusion. The transformation of Joey from foal to full-grown horse was stunning & elicited gasps & applause from the audience. I was amazed to see actors confidently leap onto the puppet horses & ride away. No attempt is made to conceal the puppeteers, so the horses sometimes appear to have too many legs, & I often read the puppeteer manipulating the head as an ostler leading the horse. The puppets also include flying birds & a comical goose.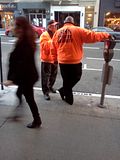 A singer, an accordion player & a brass band provide live, on-stage music, so I found it distracting that there was also recorded music. I assume
War Horse
is a family show, but I saw no children in the audience. The war scenes do not avoid portraying France as a slaughterhouse, so the show is probably too scary for very young children.
§ War Horse
based on the novel by Michael Morpurgo
adapted by Nick Stafford
in association with Handspring Puppet Company

SHN Curran Theatre
Tuesday, August 28, 2012 8:00pm