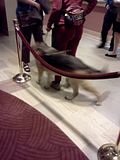 A good-sized crowd turned out for the
San Francisco Choral Society
's staged performance of
Carmina Burana
on Friday night. The chorus of nearly 200 formed an impressive wall reaching from the stage to the terrace. A reduced orchestra of about 50 accompanied them. The chorus sounded well-prepared. Female voices predominated.
The program began with
Songs for the Earth
, a set of 6 choral songs by
Emma Lou Diemer
, with texts in English by Emily Dickinson, Edward FitzGerald, Dorothy Diemer Hendry, Hildegard von Bingen & Mary Oliver. The audience sat patiently through its half-hour duration, but I found the music bland.
Carmina Burana
followed the intermission. Male choristers wore monks' robes, & the women wore head scarves suggesting the Middle Ages. During "O Fortuna," the chorus held flashlights up to their faces & switched them on & off at random. Colored lights changed along with the music. 7 women in
pink
brown outfits came into the auditorium during the "Uf dem Anger" section. They stood between the front row & the stage & struck various poses, extending their limbs & sometimes lifting each other.
Baritone
Eugene Brancoveanu
& soprano
Marnie Breckenridge
portrayed lovers in Medieval garb, & both sang beautifully. Mr. Brancoveanu wore a cowl for his tavern songs & grimaced at the audience. Tenor
Brian Staufenbiel
came out in a black leotard & flapped white wings attached to his arms while singing in a high, supernatural voice. Between verses he switched to a black pair of wings & for the final verse put on a black ski mask. Members of the
childrens' chorus
twice ran down from the side terrace to cavort with the solists. The audience gave the show a standing ovation. During the intermission I received many birthday greetings & had birthday confetti thrown at me.
§ San Francisco Choral Society
Robert Geary, Artistic Director
Brian Staufenbiel, Stage Director
Brendan Hartnett, Assistant Stage Director
Emma Lou Diemer: Songs for the Earth
Carl Orff: Carmina Burana
Brian Staufenbiel, Tenor
Marnie Breckenridge, Soprano
Eugene Brancoveanu, Bass
Contra Costa Children's Chorus
California Chamber Symphony
Perceptions Contemporary Dance Company
Friday, August 17, 2012 at 8 pm
Davies Symphony Hall