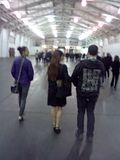 Thursday night I attended the 1st of 2
Merola Opera
performances
of Mozart's strange early opera
La Finta Giardiniera
. It seems to be a comedy, but I found the characters neither funny nor emotionally explicable. Halfway through I gave up trying to follow the plot. Fancy Edwardian costumes establish this production's time period & give each character a distinct identity. The simple set consists of a raised platform, some furniture, & large square photographs representing the garden.
The entire cast gave assured, well-prepared performances. Their acting was especially strong. Soprano
Jennifer Cherest
sang the title role with consistent strength & a vibrant voice. In this staging she suffers sexual assault, attempts suicide, gets chloroformed & kidnapped, receives electroshock therapy, & exposes a horrendous gash on her breast, yet she never comes across as pathetic. Tenor
Theo Lebow
as love interest Belfiore has a clean, unfussy voice & was impressively sustained in his long scenes. Mezzo
Sarah Mesko
, in a role originally for castrato, was eerily convincing as a man, dressed in a 19th century suit & sporting facial hair. Her singing conveyed masculinity equally well.
I liked tenor
Casey Candebat
as the Podestà. Both his voice & acting have weight & maturity. Serpetta, the Podestà's servant, is here a private nurse, & soprano
Rose Sawvel
was fittingly bold & clarion. Her pert dialogue included name-calling in multiple languages. Bass-baritone
Gordon Bintner
as Nardo has a bright, pleasing voice which is very sweet when he sings softly. Soprano
Jacqueline Piccolino
, whose costume made me think of Queen Victoria, was a matronly Arminda. She sang with a full, robust sound & expressed fury well in her act 2 aria.
Seth Mease Carico
&
Hadleigh Adams
, acting as supers, had great mustaches. The cast had perfect timing in a scene when they all shot one another simultaneously.
Gary Thor Wedow
was a vivacious conductor & led without a baton. The lively harpsichord playing of
Francesco Fraboni
&
Artem Grishaev
stood out. From my seat on the right side, the orchestra did not sound together, but probably because Cowell Theatre is not ideal for opera, & the musicians basically have to sit in the first row of the auditorium. It was interesting to note that the flute chairs were empty for most of the evening. The performance lasted over three hours, with one intermission. The house looked full, & the audience was attentive & showed no signs of restlessness. I enjoyed entering & leaving the theater through the vast empty space of the
Festival Pavilion
.
§ Merola Opera Program 2012
La Finta Giardiniera
By W. A. Mozart with libretto by Giuseppe Petrosellini
Sung in Italian with English supertitles
Conductor, Gary Thor Wedow
Director, Nicholas Muni
Nicholas Muni, Scenic Designer
Ulises Alcala, Costume Designer
Eric Watkins, Lighting Designer
Nardo - Gordon Bintner
Sandrina - Jennifer Cherest
Podestà - Casey Candebat
Belfiore - Theo Lebow
Ramiro - Sarah Mesko
Arminda - Jacqueline Piccolino
Serpetta - Rose Sawvel
Supernumeraries - Seth Mease Carico, Hadleigh Adams, Andrew Kroes, Joshua Baum
Thursday, August 2, 8:00 PM and Saturday, August 4, 2:00 PM
Cowell Theater at Fort Mason Center