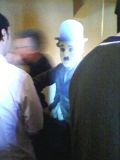 Despite the sunny weather, the Castro Theatre was packed for the
San Francisco Silent Film Festival's Winter Event
. In his enthusiastic opening remarks, festival founder Stephen Salmons welcomed us to this "one day cabinet of wonders" & invited us to step back into the 20th century. I would have liked to see all 3 programs, but I only had the stamina for 2. I did see a lot of people wearing all-day passes, though. Many of the volunteers wore spiffy 20's fashions.
It was great fun to see the program of 3 Chaplin shorts with the festival's responsive crowd. The joy of Chaplin's Mutual period was clear. Some young children in the audience giggled at every fall & kick in the pants.
Donald Sosin
accompanied the shorts on the piano, playing tunes that sounded like dance music of the period. The music matched the films so well that I was often not aware of it.
After taking a break to walk down Market Street for a coffee & pastry, I returned for
L'Argent
, a nearly 3-hour epic from France with a timely story about a bank scandal.
Romain Serman
, Consul General of France, briefly introduced the film, which he described as a gem of French cinema. He noted the irony that this film about the evils of money itself cost a whopping 5 million francs in 1928. He called director Marcel L'Herbier the James Cameron of the period. I never got into the film itself. It has a novelistic pace, strongly delineated characters, & many large crowd scenes, but the story-telling seems inefficient. There are a lot of intertitles to read. The movie was accompanied by the
Mont Alto Motion Picture Orchestra
, comprising piano, violin, clarinet, trumpet, cello & percussion. They played a melodic score that evoked French classical music as well as salon music & period jazz. They also provided airplane engine & jungle sounds. They paced themselves well, never sounding tired for the entire duration of the film.
§ San Francisco Silent Film Festival Winter Event

It's Mutual: Charlie Chaplin Shorts
The Pawn Shop (1916)
The Rink (1916)
The Adventurer (1917)
Accompanied by: Donald Sosin

L'Argent (1928)
Accompanied by: Mont Alto Motion Picture Orchestra

February 12, 2011
Castro Theatre