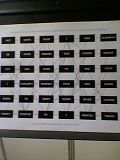 Sunday I was at the San Francisco Conservatory of Music to check out the
Hot Air Music Festival
. This is an entirely student-run marathon of contemporary music, taking place in 2 halls for 8 hours non-stop. I went in & out & heard a half-dozen or so pieces. I started in the small recital hall & found the piano trio by
Pierre Jalbert
immediately appealing. It is in 2 contrasting movements, the 1st rhythmically driving & blues-like, the 2nd spiritual & meditative. The
Delphi Trio
gave a secure, incisive performance. I like the pianist's playing, which is forceful without being too percussive. The next group of musicians wore half-masks covering their eyes while they performed
George Crumb
's
Vox Balanae
. In the opening movement,
Daniel Sharp
impressively hummed & played the flute at the same time. He also whistled delicately. Composer
Anthony Porter
explained that his piece,
not quite what i was planning
, is a game of telephone played between 2 vocalists & a group of instruments. At the end, a 6-word phrase emerges, which in our case was "wasn't noticed so fuck him louder."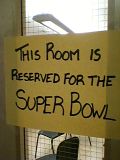 In the concert hall I heard
Louis Andriessen
's raucous
Worker's Union
, which one of the musicians explained is written for "any number of loud, discordant instruments." He emphasized the point by noting that even though he was a guitarist, he would be playing for us on an out-of-tune violin. The performance began with 2 violins, but as it progressed more musicians walked on stage & joined in. The mix eventually included cello, marimba, electric guitar, piano, trombone & even an accordion. Everyone plays in a kind of raucous unison. An extra level of chaos was injected by random mishaps. A violinist lost his shoulder rest, & 2 players apparently ran out of music & had to find new stand partners.
Steve Reich
's
Six Pianos
was performed on 6 electronic keyboards in a horseshoe arrangement. The pianists executed the piece with confidence, & the end was startling when they all stopped at once. It was a novelty to see an ensemble of 12 guitars for
Dan Becker
's
DoubleSpeak
. The piece's rhythmic pulsing made me think of John Adams. Everyone looked like they were focusing hard on staying together.
A cancellation allowed the organizers to commemorate Milton Babbitt by inserting his taped piece
Occasional Variations
. There was much laughter when someone applauded the announcement that Milton Babbitt had died the previous week. The piece, with its blips & synthesized tones, reminded me of a primitive video game. The day ended with
John Adams
's expansive concerto for electric violin,
The Dharma at Big Sur
. The performance had to be re-started when something went wrong with the electronic instrument's amp.
Morgan O'Shaughnessey
was a happy soloist & communicated a sense of joy in performing.
People came & went throughout the day, but the audiences were never large, perhaps maxing out at 90 for the John Adams. During the afternoon, I met the up-beat
Rik Malone
of KDFC as well as cheerful violist Mr. O'Shaughnessey. He showed us the beautiful
Jordan
electric 7-string hybrid violin he would play, with its inlay figures of schooling dolphins. He even let me tuck it under my chin, where it was quite comfortable to hold.
§ Hot Air Music Festival 2011

Trio: Pierre Jalbert
Delphi Trio: Liana Bérubé, violin; Michele Kwon, cello; Jeffrey LaDeur, piano

Vox Balaenae: George Crumb
Daniel Sharp, flute; Sung Bin Choi, cello; Sandra Gu, piano

not quite what i was planning: Anthony Porter
Maria Janus, Elizabeth Kimble, vocalists; Adam Cockerham, guitar; Sasha Launer, flute; Joanne De Mars, cello; Anthony Porter, accordion; Paul Psarras, conductor

Worker's Union: Louis Andriessen
Red Bennett, David Boyden, Raphael Chinn, Matthew Cmiel, Chris Edwards, David Gottlieb, Jesse Jenks, Anthony Porter, Anna Rubenstein, Kevin Schlossman, Kevin Villalta, Kelsey Walsh

Six Pianos: Steve Reich
Mark Clifford, Dominique Leone, Lucy Moore, Anthony Porter, Regina Schaffer, Zizhu Zhao, pianos

Double Speak: Dan Becker
Mason Fish, Carolyn Smith, Eric Sandoval, Matthew Holmes-Linder, Tatiana Senderowicz, Tony Kakamakov, Robert Nance, Paul Psarras, Yu Wu, classical guitar; Ramon Fermin, Nahuel Bronzini, electric guitar; Adam Cockerham, bass guitar; David Tanenbaum, conductor

Occasional Variations: Milton Babbitt

The Dharma at Big Sur: John Adams
Morgan O'Shaughnessey, electric 6-string hybrid violin; Ross Thomas Ipsen, conductor; The Hot Air Adams Orchestra

Sunday, 6 February, 2011 1:45p - 9:00p
San Francisco Conservatory of Music