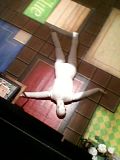 Wednesday night I saw
Boxcar Theatre's

Clue
, "a play based on a movie based on a board game." The audience sits on a high platform above & on all 4 sides of a life-size version of a Clue board. We look down on the actors, who are basically performing in a square pit. The seats are right at the edge, so this is not a show for the acrophobic. The arrangement accommodates about 45 people, each of whom has a front row seat.
The actors recreate the movie & its loony characters, & the show itself doesn't have to do anything else but be completely silly. It's loose & fast, & the actors have as much fun as the audience. A running gag is that whenever all the characters assemble in the same room, they have to cram together in the corresponding small space on the board. The production has been playing to full houses, & they have recently added more performances. The audience is encouraged to take drinks into the theater. Apparently at the 11pm shows the cast may be as drunk as the audience.
One of my theater companions, after passing a Clue trivia test, was tapped to select one of 3 possible endings. At the appropriate moment in the play he got to yell out his choice: A, B or C. We were impressed at how promptly he responded to his cue. After the show, the actors, looking quite unlike their characters, mingled with the audience in the lobby.
The Boxcar Playhouse is at Natoma & 6th Street, in the basement of a mercy house. As I waited to use the restroom, I could peek into their rec room, where I saw pizza being served. Walking to the space from Market Street is an urban adventure in itself, so I'm intrigued by Boxcar Theatre's up-coming staging of
Little Shop of Horrors
which will take place partly on the street.
§ Clue
Boxcar Theatre
Based on the movie written by Jonathan Lynn & John Landis
Adapted for the stage by Peter Matthews & Nick A. Olivero
Directed by Peter Matthews & Nick A. Olivero

J. Conrad Frank, Mrs Peacock
Michelle Ianiro, Mrs. White
Justin Liszanckie, Prof. Plum
Peter Matthews, Mr. Green
Nick A. Olivero, Col. Mustard
Sarah Savage, Miss Scarlet
Brian Martin, Wadsworth
Linnea George, Yvette
Adam Simpson, Mr. Boddy, et al.
Stephanie Desnoyers, Stage Manager

Boxcar Playhouse
February 2, 2011 8p