Salons at the Rex
Thomas Viloteau, guitar
Wednesday, February 24 6:30pm
Hotel Rex

Caprices 8, 1, 7: Luigi Legnani (1790-1877)
Fantasie Elégiaque: Ferdinand Sor (1778-1839)
Fantasie Op. 19: Luigi Legnani
Variations on a Theme by Sor: Miguel Llobet (1878-1938)

Encore:
Romance de los Pinos: Federico Moreno Torroba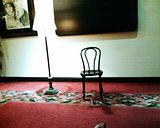 In the intimate & informal setting of the Rex Salon, I heard the young guitarist
Thomas Viloteau
play an hour of technically challenging music. He is the winner of several competitions & approached the performance with a seriousness demeanor. The guitar is such a quiet, personal instrument that even in this small space I had to adjust to its soft sound. Mr. Viloteau gets many timbres out of his instrument, & I liked his expressive vibrato, which he easily varies in speed & width. His long slender fingers make no wasted moves across the fingerboard. I especially enjoyed his playing of the
Fantasie Elégiaque
, which was often smooth & connected.
The
Variations
by Llobet are a showcase of special techniques. One glassy variation uses nothing but harmonics, each of which Mr. Viloteau hit dead center. In another variation he had to pluck the strings with his right hand far up the fingerboard so that he could use his right index finger to press down some of the notes.
Mr. Viloteau was born in Paris & surprisingly did not begin to study music until he was 12, which he admits is very late. He spent a year studying at the
SF Conservatory of Music
& is now living in New York so he can experience that city until his visa runs out in June. I got the feeling that the audience was as taken by his charming, French-accented speech as by his proficient playing. He introduced his encore by saying it was "short & easy." In response to a question from the audience, he confessed, "I would like to learn jazz guitar, but it's too hard."