Having nothing better to do this morning, I determined to get back into the
California Academy of Sciences
on their free Wednesday of the month. This is an extremely popular day, & I have been deterred by the crowds before. This time I arrived at 8:45am for the 9:30am opening. There were at least 200 people in line ahead of me already, mostly families. By the time the line started moving, I could not see the end of the line, which looked like it was going down JFK Drive. They take pictures of everyone entering the museum & hand you a card with a code with which you can retrieve & purchase your picture at the end of the day.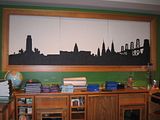 Once in the museum, I headed for the line for the planetarium show passes. Once I had my pass, I got into line for entrance to the planetarium show itself. The show is a barely half an hour & is simply a movie about star formation. On my way out I had a brief chat with the young woman operating the show. She told me that on non-free weekdays the show is longer & includes a live segment in which she points out things we can see in the night sky that week. I was also surprised to learn that the old-school analog projector, which is no longer in use, actually projected sharper star images than the fancy digital projector.
As I left the museum, people were starting to line up at the cafeteria. The line outside was still hundreds of people long. I went across the street for a visit to the
de Young Museum
's tower, where I waited in line for the elevator up. People on vacation are so patient.