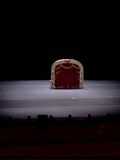 Sunday afternoon I saw public radio broadcaster
Ira Glass
& dancers
Monica Barnes
&
Anna Bass
in a live performance with the ungainly title of
Three Acts, Two Dancers, One Radio Host
. The hybrid show combined interviews from
This American Life
with Mr. Glass's live commentary & dance. Mr. Glass stood at a lectern, which he assembled on stage at the start of the show, & triggered audio clips with an iPad. I'd never had a clear idea of what he looks like before, & it took me a while to adjust to his tall, lanky appearance. The dancers were incorporated into some stories & also performed their own numbers. The audience cheered Mr. Glass when he bravely danced a few times himself.
The show ran an intermissionless 2 hours & was packed with many disparate stories. I liked hearing about the cast of
Riverdance
trying to win the lotto & about a businessman who approaches his marriage like a marketing campaign. A segment about the death of poet Donald Hall's wife was very sad & accompanied by the dancers moving in a slow embrace while precariously standing on a small table. It was fun to hear an outtake from a David Rakoff interview that was too obscene to broadcast. Mr. Glass made it obvious when he went off script, & at one point he confessed to being "terrified."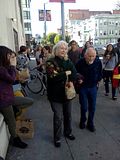 The show took place on a bare stage, but effective use was made of lighting & a small number of props. At one point, 6 audience members were pulled on stage to recreate a middle school dance, complete with disco ball & balloon arch. The show's finale included baton twirling & a confetti explosion. The Nourse Theatre looked full. The audience was attentive the entire time & gave the show a standing ovation.
§ Three Acts, Two Dancers, One Radio Host
Performance | Monica Bill Barnes, Anna Bass and Ira Glass
Words | Ira Glass
Choreography | Monica Bill Barnes
Lighting Design | Jane Cox
Set/costume Design | Kelly Hanson
Production Director/Stage Manager | Robert Saenz de Viteri

Nourse Theater, San Francisco
Sunday, November 17, 2013, 2p