Wednesday evening I heard bass-baritone
Philippe Sly,
accompanied by guitarist
John Charles Britton
, sing 15 Schubert songs in a sold-out
Salon at the Rex
. The 2 musicians sat close together on 2 chairs & shared one music stand. Mr. Sly told us that he purposely omitted translations from the program, so he instead read the translations to us before each song. He scaled his performance to the quietness of the guitar & the small venue. Both his speaking & singing voice were soothing, & his sound was clean, unfussy & often soft. The youthfulness of his voice fit the music well. He sang "Mein!" with nice contrasts, & his "Abschied von der Harfe" had a sustained quality. Mr. Britton did his own guitar transcriptions, which seemed very literal & also very challenging. He sometimes struggled to play all the notes.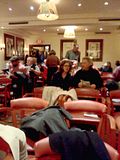 The salon audience was attentive & appreciatively applauded each song. In the Q & A afterward we learned that German is Mr. Sly's favorite language to sing & that he finds it harder to sing in a language he speaks fluently. Mr. Sly comes across as an exceedingly pleasant person. He joked about the audience's drinking & laughed when Mr. Britton reminded him to read one of the poems. He readily allowed that excerpting from
Die schone Müllerin
&
Winterreise
was "blasphemy" but explained that he picked songs based on accompaniments that worked for the guitar. Apologizing for such a dark & serious program, he gave us the 1st song from Ravel's
Don Quichotte
cycle as a light encore.
§ Philippe Sly, bass-baritone
John Charles Britton, guitar
Salon at the Rex

Franz Schubert (1797-1828)

Nachtstück

Ständchen

Lachen und Weinen

Auf dem Wasser zu singen

Der Tod und das Mädchen

Du bist die Ruh

Abschied van der Harfe

An die Musik

from Die schone Müllerin
Wohin?
Mein!
Der Müller und der Bach

from Winterreise
Gute Nacht
Der Lindenbaum
Der Wegweiser
Der Leiermann

Encore:
1st song from Ravel's Don Quichotte à Dulcinée