Alessandro Corbelli (Doctor Bartolo) and Lucas Meachem (Figaro).
Photo by Cory Weaver.
San Francisco Opera
's current production of
Il Barbiere di Siviglia
is double cast, & line-up I heard Tuesday night was solid. As the Count, tenor
Javier Camarena
has a gorgeous, velvety voice, & his singing was seductive. He had great dynamic control, executed all the tricky coloratura passages with virtuosity & even accompanied himself on guitar. It was exciting to hear him deliver the usually cut "Cessa di più resistere," which received fittingly prolonged applause. Baritone
Lucas Meachem
was a somewhat hunky Figaro, sporting a major 5 o'clock shadow & making a roomy & athletic sound. Mezzo
Isabel Leonard
played a spitfire Rosina. Her singing was consistently strapping & her high notes secure. Baritone
Alessandro Corbelli
must be close to 70
is over 60, but his singing & acting as Doctor Bartolo were vital & tight. It was wonderful to hear bass
Andrea Silvestrelli
's bottomless pit of a voice as Don Basilio. The difference in height between him & Mr. Corbelli was comical in itself. It was also nice to hear baritone
Ao Li
's deep, round sound as Fiorello.
The set consists of a diagonal slice of floor & moveable walls along one side, containing doors & windows. It looks incomplete to me. The staging is packed with random visual jokes & is very busy but not very coherent. I never felt that anything was really at stake. Props include an exercise bicycle, cotton candy & a gigantic bust of Rossini. 8 Spanish dancers participate in the action, & characters sometime crawl out from beneath the set. At the end of act 1 the principals attempt to exit down ladders into the orchestra pit & then find themselves on the wrong side of the descending curtain. I was confused about what part of the house the characters were in during the elopement scene in act 2.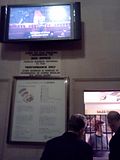 The orchestra played extrovertedly under conductor
Giuseppe Finzi
. Tempos were brisk, & there were a few moments when the orchestra & singers were not in sync. I liked hearing the clarinet & flute solos. A harpsichord accompanied the recitatives for Bartolo & Basilio while a fortepiano accompanied the younger characters. I was in upstairs standing room & spent a lot of time watching the woman seated in front of me bounce up & down to Rossini's music. During intermission the odor of pot wafted from a knot of older patrons on the outside balcony.
§ Il Barbiere di Siviglia
Music by Gioachino Rossini
San Francisco Opera
Conductor: Giuseppe Finzi
Director: Emilio Sagi
Fiorello: Ao Li
Count Almaviva: Javier Camarena
Doctor Bartolo: Alessandro Corbelli
Figaro: Lucas Meachem
Rosina: Isabel Leonard
Don Basilio: Andrea Silvestrelli
Berta: Catherine Cook
Ambrogio: A.J. Glueckert
Notary: Andrew Truett
An Officer: Hadleigh Adams
Tue 11/19/13 8:00pm
War Memorial Opera House