Last week I attended the 2nd to last performance of Verdi's
Falstaff at SF Opera
. The production was well-cast, though bass-baritone
Bryn Terfel
was obviously the star. His voice was full & cushy & seemed to get warmer & more comfortable as the evening went on. He sang with variety & expression, & his performance had a spontaneous feel. His Falstaff was good company & comical without being cartoonish. The audience particularly laughed when he appeared in act 2 extravagantly dressed in red, looking like a cross between a rooster & a pitcher of Hawaiian Punch.
The female singers all had strong voices. Soprano
Ainhoa Arteta
as Alice sounded consistently sturdy. Contralto
Meredith Arwady
's voice was robust, & she played Dame Quickly with a bold sense of fun. Baritone
Fabio Capitanucci
was a theatrical Ford & fell to the floor when giving vent to his character's jealousy in act 2. The voice of tenor
Francesco Demuro
as Fenton rang out clearly, with a bit of tension in his high notes. Tenor
Joel Sorensen
put a lot of character into his singing & physical acting as the bandy-legged Dr. Caius. Bass
Andrea Silvestrelli
was Pistola, & his deep, orotund voice is so distinctive that it popped out at me whenever he opened his mouth.
The set was composed of flat wooden surfaces & looked similar for all scenes. It was perhaps meant to evoke a Renaissance stage. A large trapdoor hinged up from the middle of the floor to represent the Garter Inn, making it look like Falstaff lived in a giant, brick-lined clam shell. A lot of white laundry linen is tossed in the air during the scene in Ford's house.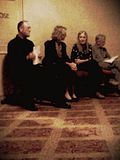 Maestro
Nicola Luisotti
's conducting was brisk & extroverted. The orchestra played out, & there were nice woodwind solos. For the final scene, a musician dressed as a huntsman stood in box A & played the opening horn calls on a valveless horn. The grand pause at the end of the finale was dramatic, & Mr. Terfel's pianissimo utterance of "Tutti gabbati" was striking. I watched the performance from upstairs standing room. There was plenty of room at the railing, & I noticed 2 people reading scores. Many attendees arrived late & had to be seated after the 1st scene.

§ Falstaff
Music by Giuseppe Verdi

San Francisco Opera
Conductor: Nicola Luisotti
Director: Olivier Tambosi

Falstaff: Bryn Terfel
Alice Ford: Ainhoa Arteta
Nannetta: Heidi Stober
Dame Quickly: Meredith Arwady
Fenton: Francesco Demuro
Ford: Fabio Capitanucci
Meg Page: Renée Rapier
Bardolfo: Greg Fedderly
Dr. Caius: Joel Sorensen
Pistola: Andrea Silvestrelli

Wed 10/30/13 7:30pm
War Memorial Opera House