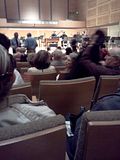 Sunday afternoon I heard a
concert version
of Handel's
Ariodante
performed by the
San Francisco Conservatory Baroque Ensemble
. Mezzo
Johanna Bronk
was confident as Ariodante. She has a secure, even sound & an endearing stage presence. Her
Scherza infida
was sorrowful & received extended applause. She had a lot of energy for her act 3 bravura aria
Dopo notte
, & she beamed so widely that the audience spontaneously applauded before the da capo. Mezzo
Nikola Printz
was convincingly ambitious & intimidating as the villain Polinesso. Her voice was commanding, & her low notes had strength. Soprano
Audrey Goodman
was sturdy-voiced & poised as the princess Ginevra. Soprano
Elena Galván
, as the naive attendant Dalinda, had a fittingly youthful, high & bright sound. I liked her perky anger in the act 3 aria
Neghittosi or voi che fate?
Bass
Christopher Filipowicz
made a resonant, hall-filling sound that was appropriately fatherly for the King of Scotland.
Daniel Bates
as Lurcanio has an appealing tenor voice that is clear, open & ardent. He executed some nice falsetto notes. Tenor
Andres Ramirez
did a good job being unobtrusive in a part consisting of sitting patiently & delivering a few bars of recitative. 6 additional singers joined the soloists at the end of acts 1 & 3 to form a chorus, & they looked amused to be present.
The performance was unstaged, but the soloists had their parts memorized & acted their scenes. Ariodante brandished a sword in act 2, & Lurcanio & Polinesso pulled out daggers in act 3, though I felt that Lurcanio was fighting dirty when he stabbed Polinesso by surprise.
Conductor
Corey Jamason
led an orchestra of 22 on Baroque instruments. He stood at a harpsichord & sat down to play it for the recitatives. The musicians played with bite & clear phrasing, though there were patches of rough intonation. The supportive audience applauded each aria & often yelled bravos. During act 1 a baby cried. We also heard an electronic whistle, which one of my opera companions identified as an errant hearing aid.
§ Concert performance of Handel's Ariodante
San Francisco Conservatory Baroque Ensemble
Corey Jamason, conductor

King: Christopher Filipowicz
Ginevra: Audrey Goodman
Ariodante: Johanna Bronk
Lurcanio: Daniel Bates
Polinesso: Nikola Printz
Dalinda: Elena Galván
Odoardo: Andres Ramirez

Sunday, March 10, 2:00 PM
San Francisco Conservatory of Music
Concert Hall