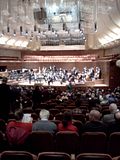 Thursday night
I heard
Charles Dutoit
lead the
San Francisco Symphony & Chorus
in Poulenc's
Stabat Mater
& Berlioz's tectonic
Te Deum
, both pieces I had never heard before. The
Stabat Mater
is in a dozen short movements, many of them surprisingly breezy, even though the text is about grieving. The performance felt patchy, or perhaps it is the piece itself. The orchestra seemed independent of the chorus, & each section of the chorus sounded disparate, with the low male voices predominating. The cushy orchestration requires 2 harps. The trumpets & flutes often popped out, but I enjoyed the smooth clarinet sound. Maestro Dutoit led with unhurried tempos. Soprano
Erin Wall
was soloist for 3 of the movements. She had a steady, open sound & was very engaged in the music, though her voice did not always penetrate well. The audience was especially quiet when the chorus sang unaccompanied. A gentleman seated behind me repeatedly yelled "Bravo" for them during the bows.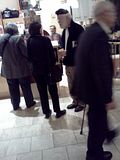 Berlioz's
Te Deum
, requiring an organ, 3 choruses & a beefed-up wind section including 2 tubas, must have frightened its first audiences. I thoroughly enjoyed its theatricality, its massive, layered climaxes & its over-the-top Beethoven-like coda that has at least 5 endings. I don't know why I haven't heard this more often. The
Pacific Boychoir
, around 60 strong, were split into 2 groups on either side of the terrace. They have a prominent role which they performed confidently from memory. I liked their bold entrances. Tenor
Paul Groves
sang his one solo with a baritonal heft while still sounding flexible. The woodwind opening of
Te ergo quaesumus
that includes a bass clarinet was striking, & I liked
Timothy Day
's distinctive flute sound. Maestro Dutoit was an unruffled & modest presence. The audience applauded the 2 choruses especially, & some gave them a standing ovation. Organist
Jonathan Dimmock
took a bow alongside the soloists.
§ Dutoit Leads Berlioz's Te Deum
San Francisco Symphony
Charles Dutoit, conductor
San Francisco Symphony Chorus
Ragnar Bohlin, director
Poulenc: Stabat Mater
Erin Wall, soprano
Berlioz: Te Deum
Paul Groves, tenor
Pacific Boychoir, Kevin Fox, director
Thu, Feb 7, 2013 at 8:00pm
Davies Symphony Hall