Photo: Steve DiBartolomeo
Last night I attended the 1st of 3
Opera Parallèle
performances of Osvaldo Golijov's
Ainadamar
. The opera is a meditation on the execution of the poet Lorca by the Falange
,
but the characters are emblematic rather than suggestive of specific personalities. The music has a distinctive flavor, with mostly female voices, a lamenting female chorus, prominent parts for bass clarinet & contrabassoon, lots of percussion, & elements that evoke Moorish Spain. Recorded sounds of water, horses, gun shots & voices are incorporated into the score. The singers & orchestra were amplified, certainly a necessity for the guitars.
Soprano
Marnie Breckenridge
is strong-voiced & powerfully played the actress Margarita, whose compulsive mourning is the center of the opera. Soprano
Maya Kherani
as Nuria has a high, easy & youthful voice, though she seemed to be Margarita's maid rather than her student. Mezzo
Lisa Chavez
as Lorca sang with a consistent, solid voice that conveyed masculinity. Flamenco singer
Jesus Montoya
makes an arresting sound, his voice both raw & beautiful. Even though he plays the bad guy Ruiz Alonso, the urgency of his voice made him appealingly human.
John Bischoff
, with his deep, wide & sonorous bass, stood out in a small part as a self-appointed father confessor. Members of the
San Francisco Girls Chorus
were poised singers. They have many exits & entrances.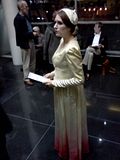 The minimal set has 2 levels. Video projections establish the scenes. The staging is largely static, reflecting the oratorio-like structure of the piece. Most of the movement comes from 5 flamenco dancers, who play various roles throughout the show. My opera companion liked a section when they gestured only with their hands, but she generally thought they were used inauthentically. The chorus, made up in white & toting suitcases, seem to be ghosts. Pre-show, they mingled silently with the audience. I found one of them in my row, her large suitcase parked in my seat. The performance lasts an intermissionless 90 minutes. The audience was respectfully quiet, attentive & patient. They applauded the cast warmly, especially the dancers.
§ AINADAMAR by Osvaldo Golijov
Libretto by David Henry Hwang

Opera Parallèle
Nicole Paiement, conductor
Brian Staufenbiel, director
Austin Forbord, video artist
La Tania, choreographer/dancer

Marnie Breckenridge, Margarita Xirgu
Maya Kherani, Nuria
Lisa Chavez, Lorca
Jesus Montoya, Ruiz Alonso
John Bischoff, Tripaldi
Andres Ramirez, Bullfighter
Ryan Bradford, Teacher

Dancers
Women's Chorus
Members of the San Francisco Girls Chorus

Fri 2/15/13 8:00PM
Lam Research Theater @ YBCA