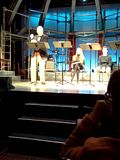 Sunday evening I was part of the audience for a reading of
Scrubbed
, a new play by
Dan Hoyle
commissioned by the
San Francisco Playhouse
. The reading was held on the set of the SF Playhouse's current production of
Bloody Bloody Andrew Jackson
. 4 actors with binders stood at music stands while a woman off to the side read the stage directions. The rather involved satirical plot concerns a misbehaving lawyer running for congress & incriminating photos circulating in cyberspace. The play is almost entirely bantering conversations. Mr. Hoyle, who looks like he's in high school, was one of the readers, though people told me he would not be in the actual production.
An unusual feature of the play is that the audience needs to see the text messages that the characters constantly send to one another. I assume these will appear as projections, though here the actors simply read the messages out loud. The funniest part of the evening was when actor
Charles Dean
determinedly pronounced strings of random text representing garbled messages.
There was an audience of perhaps 70 subscribers, who brought their own drinks & snacks to share. They were engaged & enthusiastic & laughed loudly at the jokes. My theater companion pointed out a couple in the front row who had a bottle of wine with them at their seats. We did not stay for the post-reading discussion.
§ Scrubbed
by Dan Hoyle

A play reading featuring Charles Dean, Dan Hoyle, Jomar Tagatac, Cat Thompson

Sunday, November 11, 6pm
San Francisco Playhouse