Saturday afternoon
Lisa Hirsch
addressed members of the
Wagner Society of Northern California
on
Wagner tenors
represented on early 20th century recordings. She gave capsule biographies of over a dozen singers, played recordings from her CD collection, & provided circumspect commentary. Lauritz Melchior is of course unrivaled, but it was interesting to hear nearly comparable singers also born in the 19th century & trained before there was Wagner specialization & the Bayreuth Bark. The attendees were sometimes taken aback to hear Wagner sung in Italian, French & Russian. Desider Matray's awkward Tannhäuser made some of us wince, & people laughed when Leo Slezak flubbed Siegfried's forging song. I liked Georges Thill's French-speaking Lohengrin.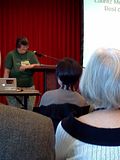 The Wagner Society weirdly convenes at the
Jewish Community Center
. The meeting began with news that the Bayreuth Festival will resume allocation of tickets to Wagner Societies in 2013. There was a headcount of those who had seen
SF Opera's current Lohengrin
more than once already. Ms. Hirsch received a Stephen Fry DVD & a Valkyrie floaty pen at the end of her talk, & the Q&A was still going when I left the event over 2 and a half hours after it began.
§ Lauritz Melchior in Context
Lisa Hirsch
Lauritz Melchior: Sui Generis or the Best of a Good Bunch?
Wagner Society of Northern California
Nov 3 2012 1:00 pm
JCC-San Francisco
§ Singers discussed: Lauritz Melchior, Paul Franz, Jacques Urlus, Giuseppe Borgatti, Isadoro Fagoaga, Ivan Ershov, Francisco Viñas, Leo Slezak, Hermann Winkelmann, César Vezzani, Walter Widdop, Georges Thill, Miguel Fleta, Desider Matray, Alberto Remedios