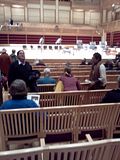 Last week I was fortunate to hear mezzo
Joyce DiDonato
in a
recital of Baroque opera arias
, accompanied by
Il Complesso Barocco
. Ms. DiDonato must be at the top of her game, & she sang with complete control. All the pieces fit her voice comfortably, as if tailored for her, & her sound was always warm, attractive & even. I loved hearing "Disprezzata regina" from Monteverdi's
Poppea
. It moved restlessly from emotion to emotion, & Ms. DiDonato nailed every dramatic turn. I wanted to hear the rest of the opera.
She sang lovely quiet passages & a beautiful decrescendo in "Piangerò la sorre mia" from Handel's
Giulio Cesare
, though the audience applauded prematurely at the end of the B section. "Madre diletta, abbracciami" from Porta's
Ifigenia
was softly plangent, & Ms. DiDonata gave the long opening note a different coloration on the repeat. Her runs & trills were clean & controlled, & "Brilla nell'alma" from Handel's
Alessandro
sounded like a hoedown. She offered 3 encores & seemed like she could give more. The house lights stayed up during the performance, & she often looked around at the audience. She joked that it was good to be wearing a dress again in San Francisco, & she playfully sang the pitch when the orchestra took a long time tuning before the Scarlatti in the 2nd half.
The young musicians of Il Complesso Barocco were a lively bunch who stood as they played. 1st violin
Dmitry Sinkovsky
was their leader & an extravagant soloist for a Vivaldi violin concerto. He performed a wild, improvisational cadenza in the 1st movement that was fun & funny. He often looks like he's running in place & frequently plays to his fellow musicians, his back to the audience. There was lots of bowing off the string & a flashy up-bow staccato in the 3rd movement. It was exuberant, & some in the audience gave Mr. Sinkovsky a standing ovation. The men of Il Complesso Barocco wore red socks that matched Ms. DiDonato's elaborate red dress.
The bright wooden interior of
Weill Hall at Sonoma State University
is inviting, & the acoustic is clear. The facilities staff conscientiously mopped the floor as patrons came in from the rain. It was a pity that there were so many empty seats. It took my concert companion & I nearly 2 hours to drive to Rohnert Park from Oakland, & we were dismayed to find no food available at the hall.
§ Drama Queens
Joyce DiDonato, mezzo-soprano
Dmitry Sinkovsky, violin | director
Il Complesso Barocco
Antonio Cesti (1623-1669)
"Intorno all'idol mio" from Orontea
Orontea, Queen of Egypt
Domenico Scarlatti (1685-1757)
Sinfonia (Presto-Grave-Presto) from Tolomeo ed Alessandro
Claudio Monteverdi (1567-1643)
"Disprezzata regina" from L'Incoronazione di Poppea
Ottavia, Empress of Rome
Geminiano Giacomelli (1692-1740)
"Sposa, son disprezzata" from Merope
Irene, Princess of Tresbisond
Antonio Vivaldi (1678-1741)
Concerto for violin and strings RV 242, "per Pisendel"
Allegro-Adagio-Allegro
Giuseppe Maria Orlandini (1676-1760)
"Da torbida procella" from Berenice
Berenice, Queen of Palestine
----------
Johann Adopf Hasse (1699-1783)
"Morte col fiero aspetto" from Antonio e Cleopatra
Cleopatra, Queen of Egypt
George Frideric Handel (16S5-1759)
"Piangerò la sorre mia" from Giulio Cesare
Cleopatra, Queen of Egypt
Handel
Passacaglia from Radamisto
Giovanni Porta (1675-1755)
"Madre diletta, abbracciami" from Ifigenia in Aulide
lfigenia, Princess of Mycenae
D. Scarlatti
Sinfonia
Presto-Adagio-Allegrissimo
Handel
"Brilla nell'alma" from Alessandro
Rossane, Princess of Persia
----------
Reinhard Keiser (1674-1739)
"Lasciami piangere" from Fredegunda
Guiseppe Maria Orlandini (1676 - 1760)
"Col versar, barbaro" from Berenice
Handel
"Brilla nell'alma" reprise?
Tuesday, November 20, 2012 at 8 p.m.
Weill Hall, Sonoma State University