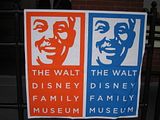 This weekend the
Walt Disney Family Museum
in the Presidio has been celebrating its one year anniversary. I've been wanting to check out the museum, so I attended their
Saturday Night Soiree
, mainly to take advantage of the half-off admission. Apart from the evening hour, the only other thing that made it feel like a soiree was the sale of beverages in the lobby.
This boutique-like museum is not affiliated with the Disney company, & its focus is on Walt Disney the man, though it is impossible to separate him from his studio. The collection is extensive, including everything from Walt's baptismal certificate to cartoon tributes upon his death. A bench from Griffith Park somehow made its way into the museum as well. The 1st rooms focus on Walt's early life & first animation studio in Kansas City, Missouri. To get to the next galleries, one takes an elevator decked out like a train car, the elevator ride representing the Disney brothers' move to California. Subsequent galleries contain a wealth of documentation about the Disney studio, its films & projects. Video screens & interactive kiosks make available tons of additional material. There is really far too much to take in on one visit. Just when you think you're at the last gallery, you turn a corner to find even more. A spectacular room near the end features a model of Disneyland as Disney last envisioned it.
There were perhaps 40 people lined up when the doors opened for this event. Many of the attendees were Asian, & there were some families, though the museum is not really for children. The museum staff, in purple bellhop uniforms, all seem to be Disney fanatics themselves & have clearly received exemplary customer service training.
6 PM to 9PM on Saturday, October 2