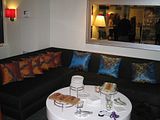 On Thursday evening I was invited to preview the renovated "
Extreme WOW
" suites on the 31st floor of the
W San Francisco
. We needed a special magnetic card just to get the elevator to take us to the top floor. Attendees were served appetizers & drinks in one of the suites, which are decorated in a style called "1930's Shanghai Glam." The oriental touches include porcelain lions, a wall-sized reproduction of a Chinese painting, orange & blue silk couch pillows & a table inlaid with symbols from mahjong tiles (an actual mahjong set is available upon request).
The suite has 2 bedrooms & 3 bathrooms & is naturally much more spacious than most San Francisco apartments. I liked the variety of seating available in the main room. The panoramic views look out toward AT&T Park, Yerba Buena Park, the Financial District & the Bay Bridge. The "
Fantastic Suites
" are on the floors just below, so "WOW" is better than "Fantastic."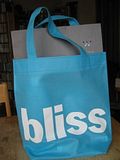 I was accompanied by a friend, who was glad that 2 of the suite's 3 huge HD TVs were tuned to the Giants v Phillies game, & he kept disappearing into the bedroom to check the score. My friend also observed that the frosted glass door of the guest bathroom does not entirely obscure the occupant. Later in the evening, he managed to get one of his friends into the suite. While good company, this fellow was not entirely well-behaved. He apparently tried to requisition my
Bliss spa
goody bag, finding it unattended.
The hotel managers who attended the event were quite entertaining. All of them did a masterful job of not reacting when the caterer spilled a glass of champagne on the clean carpet. I learned that the curvaceous figure atop the hotel is named the Pneumatic Dreamer, & the general manager of the Bliss spa did a convincing impression of Justin Bieber. Plus I finally discovered how the giant frosted fortune cookie, hand-delivered by hotel staff, had made its way into my mail box the previous day.
§ "Extreme WOW" suites at W San Francisco
Thursday, October 21
6 – 8 p.m.