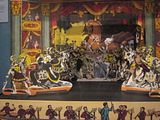 Yesterday afternoon I went to see a small
exhibit of paper toy theaters
at the
Museum of Performance & Design
. The MPD's gallery space is the hallway going around the atrium on the 4th floor of the Veterans Building. The galley space feels peripheral in more ways than one. A law library occupies the central atrium.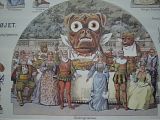 The exhibit consists of modern toy theaters models plus original lithographic sheets containing sets & lively figures to cut out & place in the theaters. The exhibition notes that the layering of planes that create the illusion of depth in these toys is the same technique used by the multiplane camera on display at the
Walt Disney Family Museum
. Despite their size, the models have a lot of pictorial detail. The plays performed on them were sensational & exotic, as evidenced by scenes from "The Burning of Troy" & "The Explosion of the Mill" on display. A contemporary model depicts a scene from
Turandot
performed by pigs. The gallery provides a useful
reference sheet for the exhibit
, which includes links to
wackily impressive
fan sites
.
I also took a quick walk through the other exhibits, which focus on the Bay Area performance scene. I learned that San Francisco's first performance of Wagner's
Ring
took place in 1900 at Morosco's Grand Opera House on Mission St. It was a touring production from Grau Metropolitan Grand Opera, & San Francisco gave them their greatest advance sale outside of New York. We were mad for opera even then.
Museum of Performance & Design
Toy Theatres: Worlds in Miniature
The exhibition is scheduled to run through the end of 2010