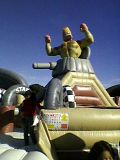 After hearing sonic booms over my neighborhood for the past 2 days, I accepted that if you can't beat 'em... So I walked to the Marina Green & joined the crowds at this afternoon's
air show
. It has been clear & cool this weekend, so one could not ask for better weather. I have to admit that I still get a thrill when I watch the
Blue Angels
roll in formation or fly so close that they look like they are going to fall on top of me. Stunt pilot
Sean Tucker
was one of their warm-up acts & performed spectacular maneuvers in a bright red, Oracle-branded bi-plane. There is something very human about his routine & the way he makes that plane corkscrew, somersault & tilt. At several points the plane hovers vertically, in defiance of gravity, & it seems to be a man with outstretched arms. I was close enough to the loudspeakers to hear the music & commentary that goes with the show. It was a bit freaky when they switched to Mr. Tucker's cockpit & he told the audience, through excited laughter, that the air show celebrates our American freedoms.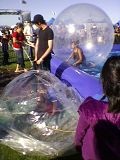 One end of the Marina Green had big inflatable structures for kids to play in. The weirdest attraction, though, was one in which an eager child is sealed in a large clear plastic balloon, which is then inflated & tossed into a wading pool. The kids flopped around in them like hamsters in a ball.
San Francisco Fleet Week
October 7 - 12, 2010

Saturday & Sunday: Full Air Show beginning at 1:00 and ending with the Blue Angels at 3:00-4:00pm. Excellent viewing along the waterfront from Marina Green to PIER 39.