Die Walküre
San Francisco Opera

Conductor: Donald Runnicles
Director: Francesca Zambello

Brünnhilde: Nina Stemme
Wotan: Mark Delavan
Sieglinde: Eva-Maria Westbroek
Siegmund: Christopher Ventris
Fricka: Janina Baechle
Hunding: Raymond Aceto
Ortlinde: Molly Fillmore
Schwertleite: Suzanne Hendrix
Waltraute: Daveda Karanas
Gerhilde: Wendy Bryn Harmer
Helmwige: Tamara Wapinsky
Siegrune: Maya Lahyani
Grimgerde: Pamela Dillard
Rossweise: Priti Gandhi

Sat Jun 19 2010 7pm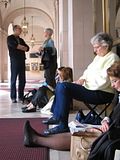 In order to be in the opera house the same night as an out of town friend, I attended this performance of
Die Walküre
in standing room. After the house lights came down, David Gockley stepped on stage & announced that
Nina Stemme
was suffering from a viral infection but would go on anyway. I certainly could not tell that she was in any way indisposed. Though of small stature, she is a powerhouse. Her Brunnhilde is spunky & girlish, hopping onto Wotan for a piggy-back ride in her 1st scene. Her voice is unexpectedly large, with an even tone throughout her range. She gave a thoroughly lovable performance. The rest of the cast was equally fine.
Christopher Ventris
&
Eva-Maria Westbroek
as the lovers were well-matched & both sang with a lyricism that my opera companion aptly described as "Italianate". In fact, this was the most beautifully sung
Walküre
I have ever heard, & it reminded me that Wagner really did have the sound of Italian opera in his head when composing.
I liked
Raymond Aceto
's clean, focused singing & alpha male strutting as Hunding.
Mark Delavan
has a warm, light voice, & his Wotan is more vulnerable human than war God.
Janina Baechle
has a grounded mezzo sound, & her Fricka is an unyielding woman with a mission. The production has her onstage overseeing the death of Siegmund. The Valkyrie sisters projected enormous vocal energy, & the audience applauded their entrance by parachute.
Maestro
Donald Runnicles
was greeted with cheers each time he entered the pit, & the orchestra played gorgeously for him. There was both great precision & a wonderful ebb & flow. In the 3rd act there were incredible moments when all the strings swelled together.
Walküre
is already my favorite Ring opera, but this performance made me love it even more.
I only partially got the thread of this "American" Ring. Hunding, his house filled with hunting trophies, could be a militiaman or survivalist. Wotan works out of a 1930's corporate board room, while Siegmund & Sieglinde take refuge beneath a freeway. The Valkyries are Amelia Earhart clones. The production looks like it was designed under severe budgetary constraints, though the real flames surrounding Brunnhilde's rock are a spectacle.
When the lights came up for the 1st intermission, I was delighted to discover that
The Opera Tattler
had snuck into upstairs standing room in time for the closing minutes of Act I. She was not
dressed as a character from the Ring
, but she looking fetching nonetheless, clutching a bulky copy of
Walküre
's score.