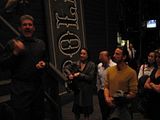 Just 45 minutes before Sunday's matinee of
La Fanciulla del West
at the
SF Opera
, I was standing in Minnie's Polka Saloon, on a backstage tour for members of the
Orpheus
club.
Drew Landmesser
, Director of Productions, took us onstage & around the back of the enormous stone cliffs that dominate the set for
Fanciulla
. Italian sculptors carved these cliffs out of styrofoam, & Mr. Landmesser jokingly admitted that the cliffs represent the Italians' rather peculiar idea of California rather than anything resembling the real thing. The cliffs are so tall that the tops had to be made removable so that they can fit through the stage doors.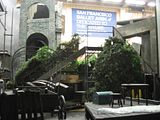 The space backstage is actually not that large compared to modern houses, & it was fun to see bits of the sets for all 3 summer productions piled together at the back of the stage. They looked like parts of a giant toy set. Members of Orpheus were curious about the animals that appeared on stage this summer. Mr. Landmesser thought that the dogs in
Die Walküre
were more effective when they barked offstage before running on. A real horse is not in the cards for next summer's
Götterdämmerung
, though. I was also surprised to learn that the parachuting Valkyries are actually
male stage hands
in wigs!
I like the honesty & humor with which Mr. Landmesser talked about the financial & practical challenges of working in the War Memorial Opera House, now somewhat dated by modern standards. I was frankly touched by his sincere love & affection for the job. He is already anticipating the technical rehearsals for 2011's
Götterdämmerung
, which begin next Monday.