San Francisco Opera
La Fanciulla del West
Giacomo Puccini

Conductor: Nicola Luisotti
Director: Lorenzo Mariani

Minnie: Deborah Voigt
Dick Johnson: Salvatore Licitra
Sheriff Jack Rance: Roberto Frontali
Nick: Steven Cole
Sonora: Timothy Mix
Ashby: Kevin Langan
Joe: Brian Jagde
Harry: David Lomelí
Trin: Matthew O'Neill
Handsome: Austin Kness
Sid: Kenneth Overton
Jake Wallace: Trevor Scheunemann
Happy: Igor Vieira
Larkens: Brian Leerhuber
Wowkle: Maya Lahyani
Billy Jackrabbit: Jeremy Milner
Pony Express Rider: Christopher Jackson
José Castro: Bojan Kneževiċ

Dress Rehearsal
4 June 2010 2pm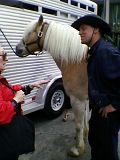 Anticipation was high for yesterday afternoon's dress rehearsal of
La Fanciulla del West
at the
SF Opera
. The house staff was ruffled by the audience's eagerness to get seats. An usher demanded to know how long I was going to save the 2 seats next to me, though I explained that someone else had dropped her jacket on them & left.
Fanciulla
is not a strong opera, lacking arias & memorable scenes, but Maestro
Luisotti
made a good case for Puccini's orchestral writing at least. He got a stunning effect right from the start, with a big sound from the orchestra. His conducting emphasized the colorful writing & rolling climaxes. He rearranged the orchestra yet again, with double basses on the inside left while cellos were on the outside on the right. The brass were split, with the horns on the left & the trumpets & trombones on the right. There was a relatively large woodwind section in the center, all of which may have accounted for the fullness of the orchestral sound, which sometimes drowned out the singers.
The 3 principals were solid.
Deborah Voigt
sounded hale & hearty. Even though it seemed like she was not using much effort this afternoon, her high notes always came through, even above a big climax with orchestra & chorus in Act III.
Salvatore Licitra
has a smooth, almost silky voice, though he had a moment at the beginning of his duet with Minnie at the end of Act I when it sounded like he was about to balk at his 1st high note but then managed to squeeze it out.
Roberto Frontali
has a dark voice, & I liked his singing & acting in his Act II showdown with Minnie. Secondary roles are well-cast too. I could not help noticing
Bojan Kneževiċ
,
Kevin Langan
&
Maya Lahyani
, excellent in their small roles.
The production looked slapdash & even a bit unfinished. Scenically dominated by huge cliffs, it opens inexplicably with a bunch of rock climbers & ends with a wagon ride into the sunset being blocked by the sudden appearance of an Alfred Bierstadt painting. No doubt the most watched element of this staging will be Ms. Voigt's Act III entrance astride the horse
Whiz Kid
, a pretty Austrian Haflinger. Ms. Voigt caused applause at her mounted entrance, & she even dismounted unassisted. At the dress rehearsal the horse caused additional delight to the audience when we realized he had crapped onstage.