The String Circle Quartet

Joseph Edelberg, Anthony Martin, Kati Kyme, and Thalia Moore
Saturday, March 13, 2010, 4:00pm
The Walt Disney Family Museum Special Exhibition Hall

String Quartet in F, K 590
W.A. Mozart

Adagio and Rondo for Piano Quintet
W.A. Mozart (trans. Czerny)
with Jonathan Dimmock, pianist

String Quartet No. 1, Opus 25
Benjamin Britten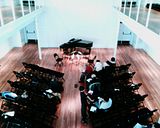 I attended this string quartet recital partly because of the
unlikely setting
of the
Walt Disney Family Museum
in the Presidio. As it was, the performance took place not in the museum but in another building behind it. Eager staffers in purple outfits made sure I found the right place, even opening doors for me. The venue was a high-ceilinged room, with an upper gallery, a wood floor & folding chairs. A piano tuner was at work when I arrived. Afterward, a man came in with twin boys, perhaps 3 years old, who immediately tried out the piano themselves, pounding the high keys & laughing. Several more preschool children were in the small audience, though none remained by the 2nd half. They were all perfectly well-behaved while the music was playing.
The 1st movement of the Mozart
String Quartet
came to a halt when the 1st violinist discovered his music was out of order & stopped the proceedings while he reshuffled his pages. Despite the interruption, the quartet played well together, listening alertly to each other. The cellist,
Thalia Moore
, was an especially reliable player. The last movement, taken at a rapid pace, kept the musicians on their toes. The room was very reverberant, maybe even too live. After a big chord, the sound would ring for several seconds.
The
Adagio & Rondo
was originally written for glass armonica, here replaced by the piano. The piece feels a bit lightweight. I found the piano's sound to be muffled & cloudy, perhaps because of the space or the lid being closed. The Britten
String Quartet No. 1
is a precocious piece, fun to listen to & to watch in the quartet's involved performance. I was initially unsure about the pitches of its extremely high opening chords, but each time this music came back, the quartet's intonation was better. I found myself surprisingly moved by this glassy, other-worldly opening & the lush, suspended-in-time 3rd movement.
The
String Circle Quartet

will be back in
May
with another concert. It's nice that the museum is presenting these programs, which do not have an obvious connection to Walt Disney, though a communication with the museum reminded me that Disney featured classical music in many of his animated shorts.