Bay Area Rainbow Symphony
Daniel Canosa, Artistic Director and Conductor

Saturday, March 27, 2010, 8pm
San Francisco Conservatory of Music

Franz Schubert: Overture to Rosamunde

Felix Mendelssohn: Thou, Lord, Our Refuge
San Francisco Gay Men's Chorus
Carl Pantle, Associate Director

Eric Whitacre: Lux Aurumque
Vocal Minority - Carl Pantle, Associate Director

Johannes Brahms: Alto Rhapsody, Op. 53
Marla Volovna, mezzo-soprano
San Francisco Gay Men's Chorus

Jean Sibelius: Symphony no. 2 in D major, Op. 43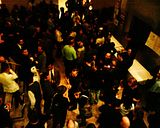 I was at the 2nd of 2 performances of a very full program by the
Bay Area Rainbow Symphony
, a community orchestra launched in 2008. As the audience was being seated before the concert proper, principal players from the orchestra offered 3 movements from Martinu's
Nonet #2
. Martinu is rather unusual promenade music, but it did demonstrate that BARS intends to make serious music. The orchestra has players of a wide range of ages, & there are apparently many
SF Conservatory
students. The ensemble was well-prepared & played quite securely. The flute & trombone sections have fine soloists. The orchestra tired a bit during the long second half, but I certainly never heard any tentative moments. The
San Francisco Gay Men's Chorus
sang with finesse in the hymns by Mendelssohn &
Whitacre
. I enjoyed the ending of Whitacre's
Lux Aurumque
, in which the higher voices sustain a falsetto note for a seemingly impossible duration.
The Conservatory's concert hall was packed. After the performance, there was a wine reception downstairs, which quickly became too crowded to move in comfortably. It looked like some food was laid out, but it had disappeared by the time I got close to the table. The BARS audience is probably just too large for this venue. After the reception, the party moved to a nearby sports bar.
BARS seems to have quite a successful organization already. Before the concert, an appeal was made to raise funds for a timpani, & we were given a humorous demonstration of what the
Scherzo
of Beethoven's
9th
might sound like without this vital instrument. During the intermission, there was a silent auction in which the prize was a seat on stage, in the middle of the orchestra, for the performance of the Sibelius.