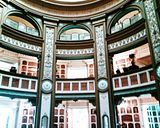 The
Neptune Society Columbarium
is one of those hidden nooks in San Francisco that I had never been to until today, when I dropped in at noon. It's odd that one approaches it from the back, but I suppose this is because the streets have changed around it since 1898. It was good to see from all the fresh flowers & tokens that the Columbarium residents have frequent visitations. Indeed, the place seems quite active, & I was definitely not the only visitor at lunchtime. The grounds & the interior are well maintained. The paint on the office building is currently being touched up.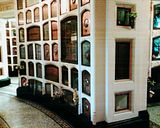 I really like the idea of using the niches to display personal items about the deceased. I often felt that I got quite a good impression of the person after just a brief glance into one of the diorama-like niches. Besides photos, I saw stuffed animals, toy cars, travel souvenirs, a mahjong tile, an unsolved sudoku, even an ACT-UP card. Indeed, many of the niches bear witness to the early days of the AIDS crisis. & of course one cannot help thinking what one would include in a niche of one's own.
The location within the City is also a great feature. There should be more places to visit the dead as we go about our daily business.