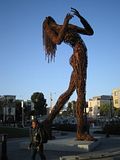 I was one of several people who immediately pulled out their cameras when happening to cross Octavia Boulevard yesterday. The statue,
Ecstasy
by Karen Cusolito & Dan Das Mann, is one of
a group that was at Burning Man in 2007
, & the provenance is unmistakable. Her proportions are so elegant, & her skin is a filigree of curved metal rods, chains & gears. She's quite lovely.