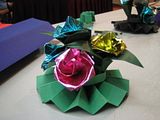 This weekend I am attending the
Pacific Coast Origami Conference
. This is my first time, & I feel very much an outsider. The conference consists primarily of classes where one learns a specific origami model in a classroom situation. There are a bit over 200 attendees, most of them from out of town. The majority are simply hobbyists, though there are several cliques of college students who keep very much to themselves.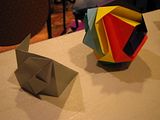 The conference is volunteer run, & the organization in general is a bit haphazard. In the afternoon I ended up in a class for which a teacher did not show up, & the same thing happened to a group of people yesterday. I was shocked by the inefficiency of the class sign-up process, which requires everyone to assemble in a conference room & wait for their priority numbers to be called. & we have to do this all over again tomorrow morning.
What has really blown me away, though, is the model exhibition. It is full of a diverse range of models that all combine aesthetics & technical difficulty at a high level. Some of the pieces made me want to cry.
I love the organic shapes of
Goran Konjevod
's obsessively pleated creations in paper & metal. I just can't understand how they are done, even after the creator himself talked to me about his process.
Anna Taylor
created a poetic tableaux of feeding hummingbirds. Hers is one of the most admired entries in the exhibit.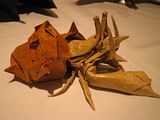 Steve Zheng
is represented by a variety of gracefully folded animals, all of them having a sculptural volume.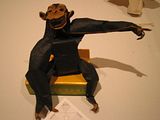 My favorite is
Brian Chan
's laughing chimp. The exhibition room is open to the public tomorrow from 10:30am to 5:00pm at the Holiday Inn on Van Ness & Pine.
As part the evening's entertainment, a dozen or so young origami experts participated in a real-time challenge & folded mushrooms, flowers, animals & human figures out of such unlikely papers as toilet seat covers & No. 10 envelopes.