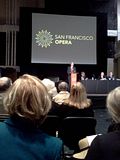 Last week I attended the
San Francisco Opera
's Annual Meeting. General Director
David Gockley
reviewed the company's financial health. Operating expenses for
fiscal year 2013
were $68 million, with a deficit of $812K. This is down from the previous year, due to there being fewer performances, but this meant that ticket sales were also down 7%. Mr. Gockley acknowledged the falling subscription rate & said he was "betting the ranch" on the
2014-15 season
, which he called the company's "return to greatness." He spoke urgently about the need for more subscriptions & legacy giving & observed that operating expenses rapidly outstrip ticket revenues because opera depends on expensive labor & does not benefit from technology to save costs. His announcement that new seats would be installed in 2015 drew applause from attendees. We also learned that
Opera at the Ballpark
will be on July 5th this year.
Immediately following the business presentations, Mr. Gockley had a brief on-stage conversation with composer
Carlisle Floyd
, whose
Susannah
will be presented next season. The 87-year-old Mr. Floyd was sharp, & he gave cogent answers to questions from Mr. Gockley & the attendees. Discussing the creation of
Susannah
, he positioned himself as a composer more interested in drama, at a time when opera was all about singing. He intriguingly described his newest opera, inspired by the movie
Stage Beauty
, about Restoration-era actor Edward Kynaston. It will premiere at
Houston Grand Opera
in 2016.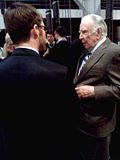 Adler Fellows
A.J. Glueckert
,
Hadleigh Adams
&
Rhoslyn Jones
then performed excerpts from
Susannah
, accompanied by pianist
Noah Lindquist
. The music & the performances were lovely. Mr. Glueckert had a clear, fluid delivery that made it seem like he was talking. Mr. Adams made his character's anguish sound disconcertingly pretty. Ms. Jones sounded fresh, natural & even. She almost broke up when a wine cork popped at the back of the room during her duet with Mr. Glueckert. Mr. Gockley & Mr. Floyd remained sitting on the stage behind the singers, mouthing the words along with them. A wine reception followed.
§ San Francisco Opera
Annual Meeting
John A. Gunn, Chairman of the Board
Keith Geeslin, President
Michael Simpson, Director of Finance and Administration / CFO
David Gockley, General Director
Adler Fellows Fellows perform excerpts from Susannah by Carlisle Floyd
Sam's Aria -- Mr. A.J. Glueckert
Hear me, O Lord -- Mr. Hadleigh Adams
Ain't it a Pretty Night -- Ms. Rhoslyn Jones
Jay Bird -- Rhoslyn Jones & A.J. Glueckert
Mr. Noah Lindquist, piano
Thursday, March 20, 2014 • 4:00 p.m.
Zellerbach Rehearsal Hall, Studio A