Monday evening I attended
SF Performances
's
gift concert
for subscribers and donors, featuring violinist
Ray Chen
& pianist
Julio Elizalde
in a program of Mozart, Sarasate & Beethoven. Mr. Chen has a disarmingly cheerful stage presence, & he looked stylish in his tailored Armani suit. His playing is sleek & joyful, & his performance of the Mozart Violin Sonata in A Major was perky.
Before the set of 3 Sarasate showpieces, Mr. Chen explained that he was "putting the dessert first," because when he added Beethoven's
Kreutzer Sonata
to the program, he realized there wasn't anything that could follow it. He dispatched Sarasate's virtuosic challenges with suave ease. The audience reacted audibly to the left hand pizzicato, & he executed a startling run of staccato notes starting from the bottom of the bow in the
Habanera
. His tone was consistently sweet & pleasing. I enjoyed the singing, contralto-like sound he made on the G string in the lyrical
Playera
. He impressively controlled the audience's silence at the end as well. The
Zigeunerweisen
was very rapid without feeling out of control, & the audience responded with cheers.
Before the
Kreutzer Sonata
, the accompanist Mr. Elizalde humorously told the story of the piece's premiere. Noting that it was once titled a "Sonata for Piano with Violin Obbligato," Mr. Elizalde declared, "The Beethoven is mine!" His playing was weighty & even, with a sense of deliberation behind each note. Mr. Chen was contrastingly airborne & a bit flighty. In the 32nd-note variation of the 2nd movement, Mr. Elizalde lost some notes, & the performers came close to dragging in the minor variation. The audience applauded after the monumental first movement & gave a standing ovation at the end. When Mr. Chen returned for encores, he apologized for coughing during the Beethoven, as he had a cold. At the conclusion of the
Meditation
from
Thais
, he again got the audience to maintain an extended silence.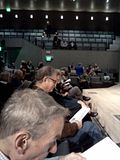 I attended this concert as a guest of
Patrick Vaz
. We sat so close to the stage that I could hear Mr. Elizalde's humming. The performers read their music off iPads, which they controlled with foot pedals. The pair signed CDs & in the lobby afterwards, where I snapped a picture of one of my friends meeting Mr. Chen
.
§ Annual Gift Concert
San Francisco Performances
Sponsored by Camilla & George Smith

Ray Chen, violin
Julio Elizalde, piano

MOZART: Violin Sonata in A Major, K. 305
SARASATE: Spanish Dances, Opus 21, No. 2 "Habanera"
SARASATE: Spanish Dances, Opus 23, No. 5 "Playera"
SARASATE: Zigeunerweisen, Opus 20

BEETHOVEN: Violin Sonata in A Major, Opus 47 "Kreutzer"

Encores:
SARASATE: Introduction and Tarantella, Op. 43
MASSENET: Meditation from Thais

Monday, March 10, 2014, 7:30pm
SFJAZZ Center