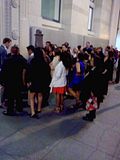 Last Friday night I heard the
New Century Chamber Orchestra
's
joint concert
with
Chanticleer
. The program was an olio of songs & light classics, such as the Barcarole from
Tales of Hoffman
, Bartók's folk music arrangements & a songs by George Gershwin & Kurt Weill. Chanticleer's performance was consistently exacting & prim. Their renditions of Comedian Harmonists songs, complete with crooning soloists & imitations of brass instruments, were highly elegant. I was startled by the high notes Chanticleer could sing in the 3 Hindemith songs. They stood next to the orchestra for their numbers, but during instrumental pieces retreated to chairs at small round tables at the side of stage, where they looked like swank nightclub patrons.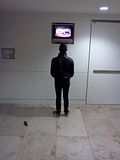 I liked the incisive playing from the cellos & bass at the start of a fugue-like section of Miklós Rózsa's Concerto for String Orchestra. The orchestra dug in for Bartók's Romanian Folk Dances. Cellist
Michelle Djokic
played a soulful solo in the "Pe loc" movement, & Music Director
Nadja Solerno-Sonnenberg
imitated stuttering speech with her violin. The ensemble ended the suite with a flourish of bows in the air.
A female moritat singer, in bowler hat & long overcoat, came down the aisle singing "Mack the Knife." She was convincingly sinister & her voice was both pleasant & a bit raw. The audience laughed when it realized she was the orchestra's missing violinist,
Iris Stone
. She sang in German, but Chanticleer entered singing breezily in English.
Countertenor
Cortez Mitchell
stunned the audience with his solo of "Summertime," which he may have sung in the original register. He had a full-throated sound & did a seamless slide at the end. "Bess, You Is My Woman Now" was a solo for Ms. Solerno-Sonnenberg. During a toe-tapping medley of Duke Ellington & Billy Strayhorn songs, the musicians hissed to imitate a steam engine & talked amongst themselves while bassist
Anthony Manzo
plucked out background music. The audience gave the show a standing ovation.
At the beginning of the evening, 2 latecomers made their way to seats in the middle of the 2nd row after the orchestra was already on stage. Ms. Solerno-Sonnenberg watched them for a while then said, "You're late!" She turned to them again & asked, "Why are you so late?" During the 2nd half, a man sneaking into a seat close to the stage was caught by Ms. Solerno-Sonnenberg, who declared, "You're very late!" The best-dressed audience member was a little boy, no more than 6, wearing a suit & tie, in the row behind me. He slept through the performance.
§ Atlantic Crossing
New Century Chamber Orchestra | Chanticleer
New Century Chamber Orchestra
Fritz Kreisler: Midnight Bells
Chanticleer
Jacques Offenbach/Julius Hopp (arr. Erwin Bootz/Comedian Harmonists): Barcarole aus "Hoffmanns Erzählungen"
Trad. (arr. H. Frommermann/Comedian Harmonists): In einem kühlen Grunde
New Century Chamber Orchestra
Miklós Rózsa: Allegro Giusto from Concerto for String Orchestra, Op. 17
Chanticleer
Béla Bartók: Four Old Hungarian Folksongs
Paul Hindemith: Selections from Six Chansons
O La Biche
Un Cygne
Puisque tout passe
New Century Chamber Orchestra
Béla Bartók: Romanian Folk Dances
Chanticleer
Milton Ager/Jack Yellen (arr. Harry Frommermann/Comedian Harmonists): Wochenend' und Sonnenschein
Kurt Weill : My Ship
Tutti
Kurt Weill (arr. Clarice Assad): Mack the Knife
Tutti
George Gershwin (arr. C. Assad): Medley
It Ain't Necessarily So
Summertime
Bess, You Is My Woman Now
There's a Boat Dats Leavin Soon for New York
Chanticleer
Vincent Youmans/Irving Caesar (arr. H. Frommermann/Comedian Harmonists): Tea for Two
Harold Arlen (arr. H. Frommermann/Comedian Harmonists): Stormy Weather
Tutti
Duke Ellington/Billy Strayhorn (arr. C. Assad): Medley
Lush Life
East St. Louis Toodle-oo
Take the A Train
It Don't Mean a Thing
Fri, March 21, 2014, 8pm, SF Conservatory of Music