The cast of Le nozze di Figaro
Photo by Kristen Loken
Last Thursday evening I saw
Merola Opera
's
The Marriage of Figaro
. The cast wore handsome 18th century costumes, & the staging was traditional, with no odd surprises. 5 large wardrobes, which the cast rearranged between acts, formed the set & represented closets & doors. The cast's singing & acting were uniformly clean, strong & enthused. Bass-baritone
John Arnold
portrayed an angry Figaro. Soprano
Maria Valdes
was a solid, slightly aloof, Susanna. Baritone
Joseph Lattanzi
is an exuberant actor. His Count was appropriately arrogant, sneering & a bit suave. Mezzo
Rihab Chaieb
flirted playfully with the audience & was a beguiling, if not particularly masculine, Cherubino. Since the set had no windows, she ran off the stage into the auditorium to get out of the Countess's room. Soprano
Jacqueline Piccolino
as the Countess has a richly-colored voice & sang with a nicely connected line. Her 2 arias held me rapt. She was a committed actor, & I liked how the staging played up the attraction between her & Cherubino.
L to R: Daryl Freedman (Marcellina), Thomas Richards (Dr. Bartolo),
John Arnold (Figaro), Matthew Newlin (Don Curzio)
and Joseph Lattanzi (Count Almaviva)
Photo by Kristen Loken
Tenor
Casey Finnigan
was hilarious as a lightly mincing Don Basilio. His voice was clear & penetrating. It would have been fun to hear him do Basilio's traditionally cut aria. As Marcellina, mezzo
Daryl Freedman
's voice sounded fittingly broad & matronly. Bass-baritone
Thomas Richards
made a stout, weighty sound as Bartolo, & his "La Vendetta" aria was nicely musical. The audience laughed at his goofy dancing during the wedding scene.
Conductor
Xian Zhang
led an orchestra of about 30, placed in the auditorium in front of the stage. Tempos were generally quick, & the orchestra & singers were occasionally not in sync. The orchestra sounded prominent. I liked the flute & clarinet solos. The harpsichord accompaniment was emphatic in the 1st half. During act 3, the lights went off on the music stands in the right of the orchestra, & a technician had to wade in among the musicians to fix it.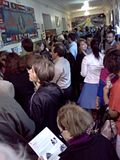 There were only 2 doors into the Everett Middle School auditorium, & only 1 ticket-taker at each door, so it took a while for everyone to get in. The show was well-attended, & the audience was supportive & applauded warmly for each number. They even broke into applause twice during the act 2 finale.
§ Le nozze di Figaro
Merola Opera Program
Xian Zhang, conductor
Robin Guarino, director

Figaro: John Arnold
Susanna: Maria Valdes
Dr. Bartolo: Thomas Richards
Marcellina: Daryl Freedman
Cherubino: Rihab Chaieb
Count Almaviva: Joseph Lattanzi
Don Basilio: Casey Finnigan
Countess Almaviva: Jacqueline Piccolino
Antonio: Rhys Lloyd Talbot
Don Curzio: Matthew Newlin
Barbarina: Alisa Jordheim

Thursday, August 1 at 7:30 PM
Everett Auditorium at Everett Middle School