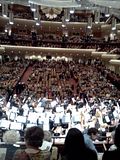 Wednesday night I heard the
San Francisco Symphony
's buoyant
concert
featuring pianist
Marc-André Hamelin
in Ravel's
Concerto for Left Hand
& Gershwin's
Rhapsody in Blue
. I joined friends in the center terrace, where I'd never sat before. For me there was too much sound, & the orchestral balances were of course backwards, but I felt like part of the orchestra, & it was fun to watch the conductor. Maestro
David Robertson
looked happy & smiled a lot, & he was always well ahead of the orchestra.
The program opened with
Variations for Orchestra
by Elliott Carter. The music is complex, & I could not tell where the different variations began & ended. The orchestra's sections often play in opposition to one another, & there are a lot of solos. Maestro Robertson made the piece feel connected & gave it a gradually building momentum. Mr. Hamelin was a well-mannered soloist. His bass chords in the Ravel concerto were big & resonant. He sounded elegant in the
Rhapsody in Blue
after intermission. The opening clarinet solo was smooth, & I liked the jibing trumpet solos. The audience applauded Mr. Hamelin & the soloists appreciatively. The orchestra played cleanly all evening, & the program ended with a nicely flowing performance of Ravel's
La Valse
, which Maestro Robertson led without a score. The audience responded enthusiastically.
A women in our row ended her cellphone call just as the Ravel concerto started, & then her phone rang during the piece. A cellphone in the side terrace rang as well. My concert companion noticed
Lisa Hirsch
scurrying along the edge of the stage right before the second half, apparently trying to peek at the cellists' music.
§ Robertson Leads Ravel And Gershwin
San Francisco Symphony
David Robertson, conductor
Marc-André Hamelin, piano
Elliott Carter
Variations for Orchestra
Ravel
Piano Concerto in D major for the Left Hand
Gershwin
Rhapsody in Blue
Wed, May 22, 2013 at 8:00pm
Davies Symphony Hall