Wednesday evening I heard soprano
Jessica Rivera
& friends in this season's last
Salon at the Rex
, presented by
San Francisco Performances
. She began with a set of 4 songs, accompanied by pianist
Maryanne Kim
. Ms. Rivera has a pleasingly cushy voice & is an expressive singer. She sounded full of yearning in a selection from Golijov's
Saint Mark Passion
, & the vocalise-like passages were lovely.
Ms. Rivera then introduced composer
Gabriela Frank
, who accompanied 2 of her own compositions. The bubbly Ms. Frank described how she originally wrote "O Anjo Anuncia" as a surprise wedding song for
Joana Carneiro
, Music Director of the
Berkeley Symphony
. The text in Spanish concerns The Annunciation & unfolds lyrically with a devotional feel. Ms. Rivera's performance was heartfelt, & I liked the warmth of her low notes. The song is part of an oratorio by Ms. Frank about Biblical women, which
premieres this Friday
at Mission Dolores. Ms. Frank presented
Nilo Cruz
, the librettest, who told us how he had to "find the conflict" for the work. We also heard a few words from
Brandon Brack
, Music Director of the
San Francisco Girls Chorus
, who praised the professionalism of the chorus's training.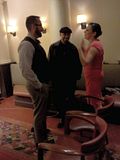 The program ended darkly with Frank's "Carnaval de Tambobamba" sung by mezzo
Rachel Calloway
. The mournful text is based on a Quechua language source. Ms. Calloway sang with a sustained sound & communicated anguish & loss. Ms. Frank played tocsin-like chords at the bottom of the keyboard vividly.
The performance ran an hour, plus a brief Q&A. We learned that Ms. Rivera was inspired to become an opera singer when she saw Jeanette MacDonald in the movie
Maytime
. The endearing older lady seated next to me turned out to be the mom of director Peter Sellars.
§ Salon at the Rex
Jessica Rivera, soprano
Maryanne Kim, piano
Gabriela Lena Frank, piano/composer
Rachel Calloway, mezzo-soprano
with special guest Nilo Cruz, author/playwright/librettist
How Do I Love Thee, Lippe (1884-1956)
"Seit ich ihn gesehen" from Frauenliebe und -leben, Schumann (1810-1856)
St. Ita's Vision" from Hermit Songs, Barber (1910-1981)
"Lúa Descolorida" from La Pasión seqún San Marcos, Golijov (b. 1960)
Jessica Rivera, soprano
Maryanne Kim, piano
"0 Anjo Anuncia" from Hymn of the Annunciation, Frank (b.1972)
Jessica Rivera, soprano
Gabriela Lena Frank, piano
"Carnaval de Tambobamba" from New Andean Songs, Frank (b.1972)
Rachel Calloway, mezzo-soprano
Gabriela Lena Frank, piano
Wednesday, May 1, 2013, 6:30pm
Hotel Rex