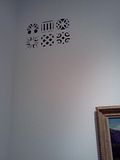 Though my trip to Hawaii has nothing to do with art appreciation, I visited the
Honolulu Museum of Art
on Wednesday morning with a Honolulu resident who had never been there herself. The museum was founded in 1927 & grew out of the private art collection of a missionary family. The museum is larger than it appears from the outside. There are over 20 galleries, grouped around several outdoor courtyards.
The collection is broad & indiscriminate. The eastern galleries contain European art, organized by theme or by period. I enjoyed a 5th century Roman mosaic floor of an
animal hunt
& was impressed by the insistent lushness of Courbet's
Stream in the Jura Mountains
, which is next to a late Van Gogh painting of a
Wheat Field
. Couches are conveniently positioned for relaxed viewing of large canvases by
Monet
&
Morris Louis
. I liked the portraiture gallery containing Sargent's glamorous
Mrs. Thomas Lincoln Manson, Jr.
& John Copley's warts-and-all
Nathaniel Allen
. The friendly docents are clearly proud of the permanent collection.
Robert Arneson
"A Hollow Gesture"
1980
The western galleries contain an extensive collection of Asian & Southeast Asian art, in good condition & often ornate. A theatrically staged sculpture of
Guanyin
from 11th century China still shows traces of its original colors. There were several special exhibits, including
textiles
from Central Africa &
video sculptures
by
Tony Oursler
that look like rejects from the Haunted Mansion. Selections from the collection of
Thurston Twigg-Smith
include 3 wonderful works by Robert Arneson & a collage by Jess. A room of recent acquisitions had pieces by Grandma Moses, Wayne Thiebaud, & Yue Minjun.
§ Honolulu Museum of Art