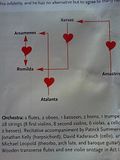 This production of
Xerxes
at
San Francisco Opera
is so fresh & funny that I was surprised when someone told me it has been in circulation since the mid-1980s. It's set in the 18th century, in a sort of garden of cultural attractions. The chorus, their faces & costumes painted completely grey, are a genteel crowd who spend their time listening to concerts, admiring collections of curiosities & drinking coffee. The supers, their heads painted completely white, shepherd them through velvet ropes & set out furniture for them with choreographed precision.
The production plays like a comedy of manners, & the arias are cleverly staged as little skits.
In act I, Xerxes delivers an aria as he trails Romilda during a stuffy art appreciation event.
In act I, Romilda delivers an aria as if in conversation with her sister, as the 2 of them sit through a stuffy art appreciation event.
In act II, Xerses & Atalanta sit down for dessert in a fancy restaurant then get kicked out when they get too emotional.
In act II, Amastris gets belligerently drunk in a fancy restaurant & is kicked out. The characters sometimes gesture naturalistically exactly with the music. Even the supertitles enhance the artifice by being in a singable, rhyming 18th century idiom.
All the performers were lively singers & actors.
Susan Graham
is like an athlete in peak condition, her voice glowing, sure & steady, & her Xerxes convincingly masculine.
David Daniels
's Arsamenes is a lover, not a fighter, & I was continually amazed by how strongly his burly countertenor voice carried. It never sounds attenuated.
Lisette Oropesa
, as Romilda, hit some lovely high notes softly & without straining.
Heidi Stober
showed off firm high notes & was very funny as Atalanta. The audience was so impressed with contralto
Sonia Prina
's muscular coloratura that it applauded halfway through her 1st aria. I liked bass-baritone
Michael Sumuel
's warm, cushy sound & light-hearted acting as "facetious fellow" Elviro. He was hilarious as an unlikely-looking flower seller in act II. Bass-baritone
Wayne Tigges
demonstrated fine coloratura & comic acting as a proud yet faintly silly general.
The reduced orchestra played with zest, & all of the tempos were dance-like. It was impossible not to sway with the music from time to time. I enjoyed hearing the trumpet, which was bright yet still blended with the orchestra. In that large house, I was surprised that I could even hear the various lute instruments played by
Michael Leopold
. I spent much of the 2 intermissions worrying over the program synopsis & studying its diagram of love arrows, but the plot remained a puzzle to me.
§ Xerxes
George Frideric Handel

San Francisco Opera
Conductor: Patrick Summers
Production: Nicholas Hytner
Revival Director: Michael Walling

Xerxes: Susan Graham
Romilda: Lisette Oropesa
Arsamenes: David Daniels
Atalanta: Heidi Stober
Amastris: Sonia Prina
Ariodates: Wayne Tigges
Elviro: Michael Sumuel

Tue 11/8/11 7:30pm
War Memorial Opera House