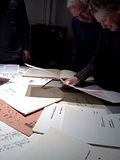 Last night
Arion Press
hosted a talk by
Charles Boone
on printed musical scores. Mr. Boone described himself as a "quasi-unknown" composer, & his illustrated lecture focused on unconventional notation schemes devised by composers after World War II. We saw crazily complex scores from Friedrich Cerha & Stockhausen that look like engineering designs or maps rather than music. One Stockhausen score has notes printed on a ruler-sized piece of clear plastic that is then rotated over a circular staff. At the other end of the spectrum were scores that consist of verbal descriptions only or open-ended suggestions to the performers, such as John Cage's famous
4'33"
.
Mr. Boone also played a few well-chosen musical excerpts. I laughed at
Jaap Blonk
's performance of
Recitation 11
by George Aperghis, which wickedly pokes fun at French speakers. A recording of pianist David Tudor playing Stockhausen was stunning. After the talk the audience was invited to peruse actual scores, which were laid out on a large circular table. Mr. Boone also distributed a useful list of his slides.
The audience was a rarefied bunch. I sat next to a balding gentleman who took notes in a huge graph paper notebook filled with what looked like trigonometry diagrams & formulas. The event took place in the Arion Press gallery, which is open to the public. Excitingly raw
pulp fiction drawings by Raymon Pettibon
are currently on display.
§ How Music Looks: The Printed Page
A talk by Charles Boone

Arion Press & Grabhorn Institute
Wednesday, November 16, 6:00 p.m.