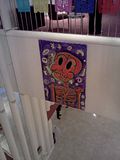 Friday night conductor
Semyon Bychkov
led the
San Francisco Symphony
, & I had a God-like view of the Davies Hall audience from a seat in a 1st tier box. The audience was sparse, maybe because of the concert's odd start time of 6:30p. Maestro Bychkov has a low-key musical profile. He never pushes, though he always looks engaged with the orchestra. Strauss's
Don Juan
was unrushed. The love music after concertmaster
Nadya Tichman
's solo felt languid & reminded me of
Tristan
.
William Bennett
played a level, almost unarticulated, oboe solo.
Kirill Gerstein
was soloists for Strauss's
Burleske
, a jaunty piano concerto in one movement. His playing was clean & bright. The audience laughed at the piece's playful ending & gave Mr. Gerstein a warm ovation. Schumann's Symphony No. 2 flowed with a regular pace & had a relatively small range of tempos & dynamics. The strings were fast, clean & even in the Scherzo. There were nice woodwind solos in the Adagio, especially from the clarinet & oboe. The audience cheered the performance, & the orchestra applauded Maestro Bychkov as well.
Maestro Bychkov did not use a score for
Don Juan
or the Schumann. One of the woodwinds, perhaps the clarinet, squealed during the 1st movement of the Schumann, which my concert companion put down to the weather changes in the past few days. After
Don Juan
, a woman seated in our row asked us what was the difference between the French horn & the English horn. My companion said the English horn "looks like an oboe that swallowed an orange." After the Schumann, she asked us which instrument was the oboe, but she seemed skeptical when we pointed out the 2 oboists onstage.

§ Semyon Bychkov conducts Don Juan
San Francisco Symphony
Semyon Bychkov, conductor
Kirill Gerstein, piano

R. Strauss: Don Juan, Op. 20
R. Strauss: Burleske in D minor for Piano and Orchestra
Schumann: Symphony No. 2 in C major, Op. 61

Fri, Nov 4, 2011 6:30pm
Davies Symphony Hall