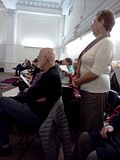 Tuesday morning I attended an open rehearsal of the
opera-themed program
that the
New Century Chamber Orchestra
is presenting
this week
in 4 Bay Area locations. In the first half, we heard the
Intermezzo
from
Cavalleria Rusticana
, the Prestissimo movement from Verdi's string quartet, & the
Meditation
from
Thais
, with
Nadja Salerno-Sonnenberg
as soloist. New Century plays without a conductor, though Ms. Salerno-Sonnenberg definitely leads. They played each piece first without stopping, then went back over it, working out tempo & ensemble issues through discussion among members. After they played the
Intermezzo
a 2nd time with more articulation between sections, Ms. Salerno-Sonnenberg joked to the audience, "Disregard the first performance." Her solo in the
Meditation
had a dark, woody texture. Weirdly, the arrangement by
Clarice Assad
has a marimba replacing the harp.
After a break, we saw a complete run-through of
Rita
, an ebullient one-act comic opera by Donizetti, lasting an hour.
Adler Fellows
Maria Valdes
,
Thomas Glenn
&
Efraín Solís
are a lively & appealing cast. They sing in Italian but speak the dialogue in English, & that is enough to communicate the basic plot, which involves 2 men each trying not to be declared the rightful husband of the shrewish title character.
Eugene Brancoveanu
, another Adler Fellow, did the funny, fast-paced staging, which involves a lot of spousal abuse & fights. The addition of woodwinds & horns gave the orchestra a much fuller sound. Ms. Salerno-Sonnenberg was very busy playing, conducting, & keeping an eye on the singers. After the run-through, she went over spots where the singers were dragging. The rehearsal took place in a high-ceilinged room that was nice for voices. The enthusiastic audience applauded frequently. Coffee & donuts were served during the break.
§ Open Rehearsal
New Century Chamber Orchestra
Nadja Salerno-Sonnenberg, Music Director

Mascagni (arr. Assad): Intermezzo from Cavalleria Rusticana

Verdi: Prestissimo from String Quartet in E minor

Massenet (arr. Assad): Meditation from Thais
Nadja Salerno-Sonnenberg, violin

J. Strauss (arr. Lindstrom): Overture to Die Fledermaus

Donizetti: Rita
Rescored & edited by Peter Grunberg
Maria Valdes, Rita
Thomas Glenn, Beppe
Efraín Solís, Gasparo
Eugene Brancoveanu, Director, Script, Production Design

Tuesday, February 11, 2014, 10am
Kanbar Performing Arts Center, San Francisco